The stream team here at Roku has been hard at work. And the result? A bevy of new Roku channels! We've hand-picked 18 new channels to check out – grouped by the type of service: subscription, authenticated (pay TV subscription) and, free. So click on the links below, tap the add channel button, and stream away.
On the hunt for more streaming channels? Head over to our official Channel Store!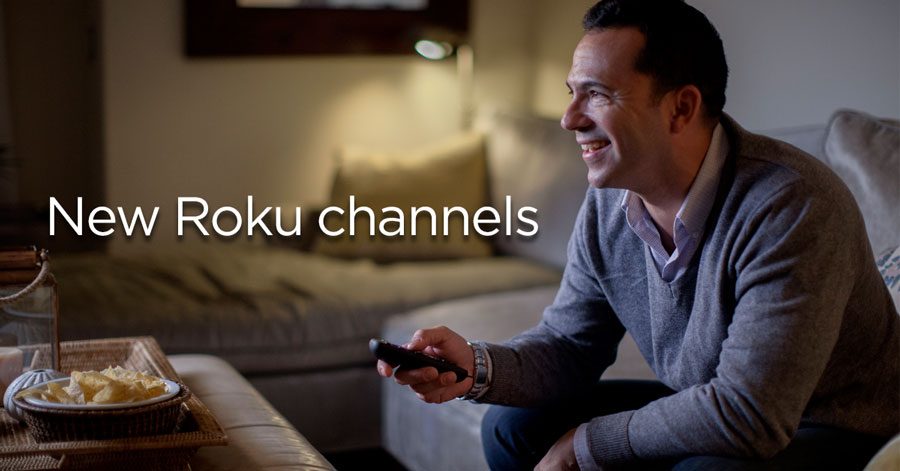 SUBSCRIPTION
DIRECTV NOW (Packages start at $35/month – use code ROKU1MONTH for a one-month free trial* until 8/31/17) – AT&T's streaming service that offers live sports, on demand, premium channels, popular shows, and hit movies is available on select devices. Click here to see the full list of compatible Roku players and Roku TVs.
CenturyLink Stream (Packages start at $15/month after a 7-day free trial) – A new service available on select Roku devices that delivers instant access to live and on-demand sports, news and entertainment programming, including Latino and local channels.
Boomerang ($4.99/month after a 7-day free trial) – Access a library of both brand-new original series and classic franchises like Scooby-Doo, Looney Tunes, Tom & Jerry and The Flintstones among others.
FilmStruck ($10.99/month after a 14-day free trial) – The largest streaming library of contemporary and classic arthouse, indie, foreign and cult films and the exclusive streaming home to the Criterion Collection. Current titles include The Usual Suspects, The Long Goodbye, and many more.
Fullscreen ($5.99/month after a 7-day free trial) – Get instant access to the shows, movies and originals from the stars you love, including Shane and Friends with Shane Dawson, Not Too Deep with Grace Helbig, and Psychobabble with Tyler Oakley and Korey Kuhl. New entertainment is added daily.
AUTHENTICATED (Requires a participating pay-TV provider subscription)
AHC GO – Watch episodes of your favorite American Heroes Channel shows like America: Facts vs Fiction, What History Forgot, and more live or on demand.
Discovery Life GO – Stream full episodes of Untold Stories of the ER, Shock Trauma, and other Discovery Life shows or tune into their live feed to catch what's on.
Destination America GO – Currently streaming (live or on demand) Destination America favorites like A Haunting, Ghost Asylum, Mountain Monsters, and Ghost Brothers.
Velocity GO – Chasing Classic Cars, FantomWorks, Wheeler Dealers, and other Velocity shows are available both live and on demand.
FREE
BuzzFeed News – Reporting to you with the most interesting stories from the internet and around the world.
Wild Westerns – Choose from over 400 westerns from genres ranging from adventure and comedy to drama and spaghetti western!
RT – RT America is the home of Politicking with Larry King, News with Ed Schultz, and On Contact with Chris Hedges. It is the most watched TV news network of all time with over 4.5 billion views.
On Two Wheels – Whether they're skidding across the frozen lakes of Wisconsin, riding BMWs through Thailand, or racing Honda Groms, Zack Courts and Ari Henning will show you how to have fun On Two Wheels.
Geethanjali Learn Yoga – Learn yoga techniques to help with everything from weight loss to stress and depression and more.
Nerdaclysm – Classic movies, TV, and cartoons from genres including sci-fi, kung-fu, westerns, and anime.
TechnoBuffalo – From smartphones to TVs, TechnoBuffalo's reviews help you find the technology that best suits your needs.
Baby Boomer TV – Stream television classics like The Lone Ranger, The Beverly Hillbillies, Bonanza, Mister Ed, The Dick Van Dyke Show, and more!
Speck – Speck delivers exclusive independent films and TV series you won't see anywhere else. You can currently watch Monty Python: Almost the Truth (The Lawyer's Cut) and Condemned, where an inmate on death row tells the gripping, tragic story of his life and crimes.
Looking for more? See our last new channels post.
Happy streaming!
Facebook | Twitter | Instagram | YouTube | Subscribe to Roku blog
The post 18 must-add new Roku channels appeared first on The Official Roku Blog.
Source: Official Roku Website