Did you know there are thousands of free movies available on your Roku players and Roku TVs? If you're a fan of free stuff, keep reading as we've compiled 19 channels in the Roku Channel Store that offer complimentary movies.
Simply click the links below to add the channels, fire up your Roku device and start streaming!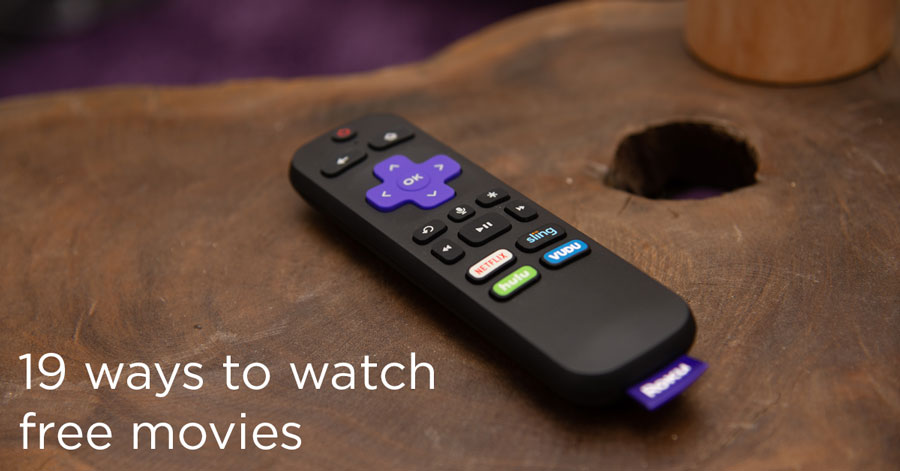 FREE MOVIES ON ROKU DEVICES
The Roku Channel – Currently streaming Hollywood hits like Rocky, Ghostbusters, and Police Academy. Also features TV series and live news.
Sony Crackle – Sony Crackle has hit movies including Ace Ventura, The Blues Brothers, and Ocean's Eleven.
Tubi – Stream movies like Titanic or Zookeeper, TV shows like Dog the Bounty Hunter or Unsolved Mysteries, and more.
Vudu – In the 'Movies On Us' section, watch films like Batman and Jerry Maguire along with TV series like Rescue Me and 3rd Rock from the Sun.
Pluto TV – Free movies on Pluto TV right now include The Matrix, Blade Runner, The Professional and more.
Coolflix – Current titles include Valkyrie, The Man in the Iron Mask, Child's Play, Lost in Space, among others.
Snagfilms – SnagFilms has over 2,000 movies, TV show episodes, eye-opening documentaries and exclusive original comedy shorts.
WatchFreeFlix – Features comedy, horror, family, action and drama movies – will new films added often.
Popcornflix – The Girl with the Dragon Tattoo, Pi, Made and a whole lot more.
FilmRise Sci-Fi – Features sci-fi, horror, thriller, paranormal and fantasy films.
DUSTx – A must-add channel for sci-fi lovers, with featured rows titled robots, time & space travel, NASA, and much more.
Movies by Fawesome.tv – You'll see familiar faces here, with movies starring Robert De Niro, Jason Statham, Nicole Kidman and Charlize Theron.
Shout Factory TV – Currently streaming plenty of Jackie Chan martial arts flicks, a 'VHS Vault' with classic 80s films, and a number of free episodes of MST3K.
Classic Movies and TV – Stream classics from genres like musicals, martial arts, drama, classic television and many more.
B&W Theater – Vintage movies, cartoons and TV in glorious black and white.
Western Mania – Currently streaming 20 John Wayne movies as well as TV series like The Lone Ranger, Bonanza, and more.
Western TV and Movie Classics – John Wayne, James Caan, Roy Roger and more all make appearances in this free channel.
FilmRise Indie – A one-stop shop for movie buffs looking for foreign and indie films (updated daily!).
King's Movie House – Stream classics like Little Shop of Horrors, The Three Stooges and The Adventures of Huckleberry Finn.
Check out what's streaming for free on The Roku Channel in October.
*Titles and availability are subject to change.
The post 19 ways to watch free movies on your Roku device appeared first on The Official Roku Blog.
Source: Official Roku Website