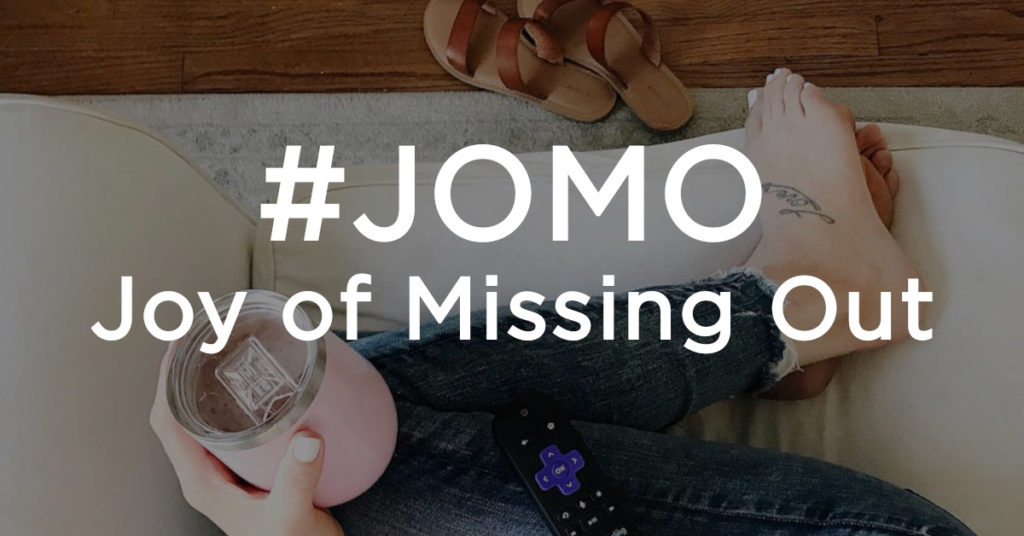 Remember when FOMO was a 'thing'? Well forget fear of missing out and embrace its much less stressful friend 'JOMO'. The pure, unrivalled 'Joy of Missing Out'.
JOMO is that blissful feeling you get when you let your true self say 'no' to those plans you were dreading in favour of quality, unadulterated you-time. And for the great majority of us, that means falling into the arms of your sofa, streaming a marathon movie session and generally living our best night-in life.
We love an excuse to enjoy a #RokuNightIn, so we thought we'd ask the great British people if they JOMO'ing as hard as us. If you're looking for a way out of unimpressive plans, know you are in good company…
1) You're not alone
6 million Brits a month admit cancelling plans in favour of a night in watching TV (that's 1 in 3)! Next time you feel bad for turning down an invite, just remember you are in good company. In fact having a night in doesn't mean being by yourself, as almost a third of Brits who cancelled plans to watch TV say they would be snuggling up to their partners.
2) Admit you need a break!
FOMO puts just another pressure on us to do anything other than relax! And with 65% of women saying they most often cancel social plans as they are too tired it's time to admit that sometimes saying 'no' is an act of much needed self-care. Ditch the guilt of FOMO and welcome JOMO with a big self-loving hug!
3) Singles don't have to mingle
The pressure for singles to couple-up can be a mental drainer and we seem to forget the best thing about being single is being able to do exactly what you want, when you want (within reason of course!). Nearly 40% of singles admit to cancelling social plans to have a night in watching their favourite TV shows. There's nothing wrong with ditching a bad date to settle down with a box set!
4) There is no end of creative excuses!
If you can't bring yourself to just say no, there are plenty of ways to duck out of bad plans. Brits' top reasons for bailing on plans were feeling unwell, having to work late, accidentally forgetting about existing plans and promising their partner they would do something with them. In fact, men were much more likely to use their partners as a reason to get out of plans. We'd suggest that if you're going this route then you at least let your partner choose the first movie…!

5) You can experience a world of adventure (from your sofa!)
Plans 'not being exciting enough' were among the top reasons Britain's cancelled plans to stay in. But a night in doesn't mean excitement can't be found right in front of you. For most of us who are happy to get our thrills closer to home, there are loads of heart-pumping options via Roku Channel Store. Experience Philippe Petit's 1974 World Trade Center rope walk in the 2015 stomach churner, The Walk on Google Play. Or, how about the world's deadliest street race? Curfew is the full-throttle Sky original with Sean Bean, Adrian Lester and Billy Zane. Nothing boring about that!
So next time you're scared of missing out, just remember the Joy of Missing Out is just as powerful (and sometimes a lot more satisfying)!
The post 5 guilt-free reasons to embrace JOMO   appeared first on The Official Roku Blog.
Source: Official Roku Website