Hello Roku faithful! It's been awhile since we connected and talked about the amazing Plex experience on the Roku platform. Plex continues to be one of the most popular channels (I blush!) in the Roku Channel Store. We run on all current Roku devices, supporting HDR and 4K* picture quality on the new Roku Ultra, Roku Premiere and Roku Premiere+, while bringing an amazing HD experience to the tiny and powerful, Roku Streaming Stick and incredibly affordable Roku Express.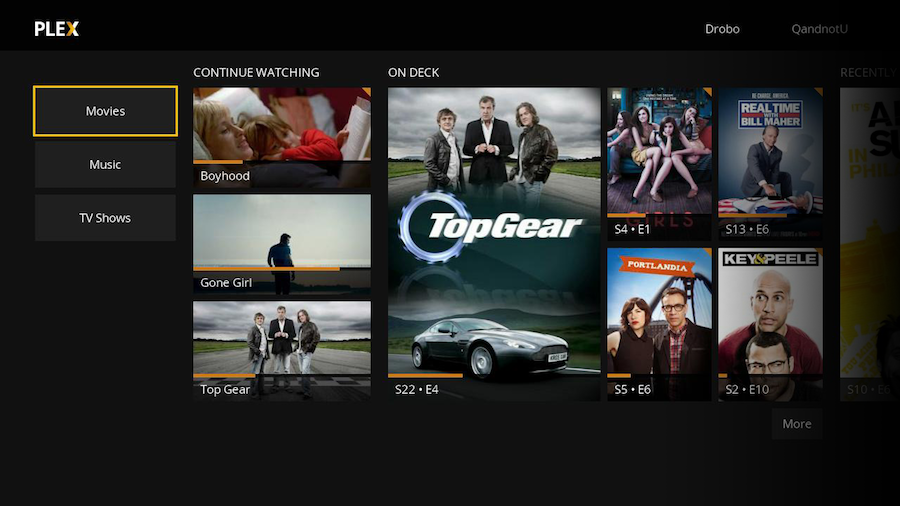 If you aren't up to speed on Plex in the Roku universe, let me break it down:
1. Plex does it all –  Plex organizes all your media libraries into a single, organized window for easy playback on your Roku device. And, once you're running Plex, you can even access your files on your mobile phone, tablet, and a bunch of other devices, no matter where you are. Bonus!
2. Simple organization – Plex beautifully organizes all your media, making it easy to find what you want to watch on all your Roku devices. Plex gives you posters, actor/artist info, season and episode details, genre, and more. Your media collection has never looked so good.
3. Play anywhere, anytime – Your entire collection of movie, music, TV shows, photos, and videos are available to play anytime you want using your Roku device, regardless of where you have the files stored.
4. Easily share all your media – Mom wants to see the grandkids photos? The grandkids want to listen to your classic rock tracks? Your best friend is jelly of your movie collection? Simple to solve, just share your Plex libraries and they can watch it all on their own Roku devices!
5. The Plex channel is free! You already have a Roku and if you have your own TV, movie, and music content, just add Plex for more entertainment excitement. Note that Plex Media Server is free, and using it with Roku is free, but some supporting apps and Plex premium features do have a cost.
Now, Plex is super easy to access, setup, and use on Roku players and Roku TV, but here are a few navigation tricks to help you get around your media quickly in the channel. Nothing like jumping into the fun ASAP!
Tip #1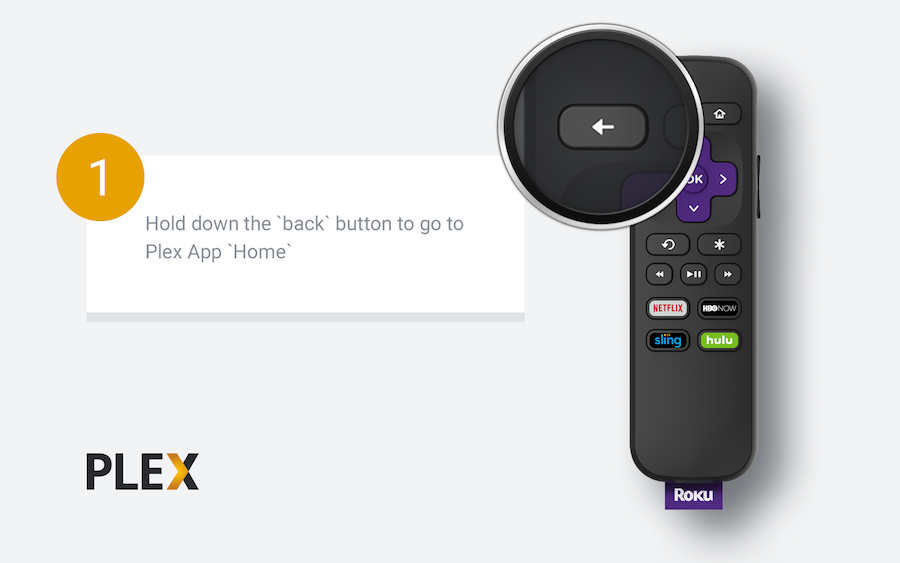 Tip #2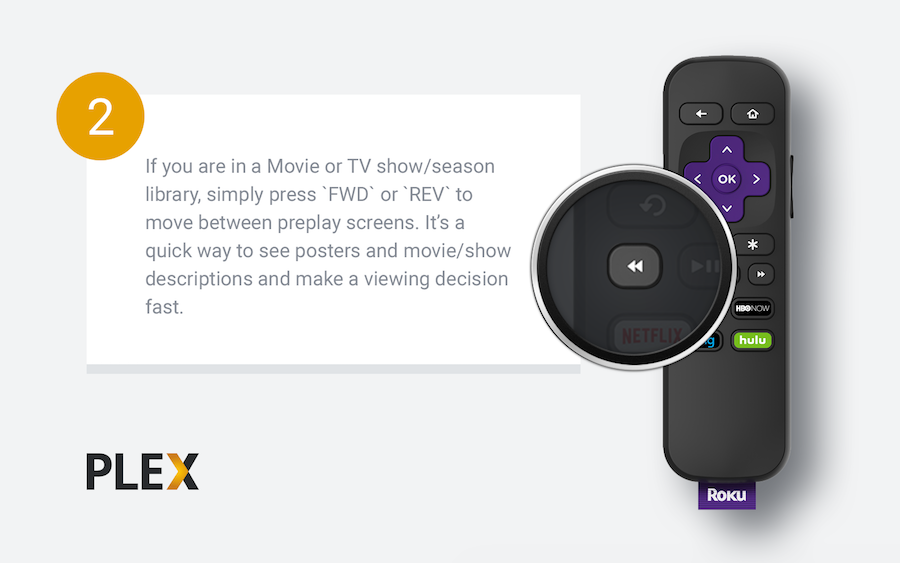 Tip #3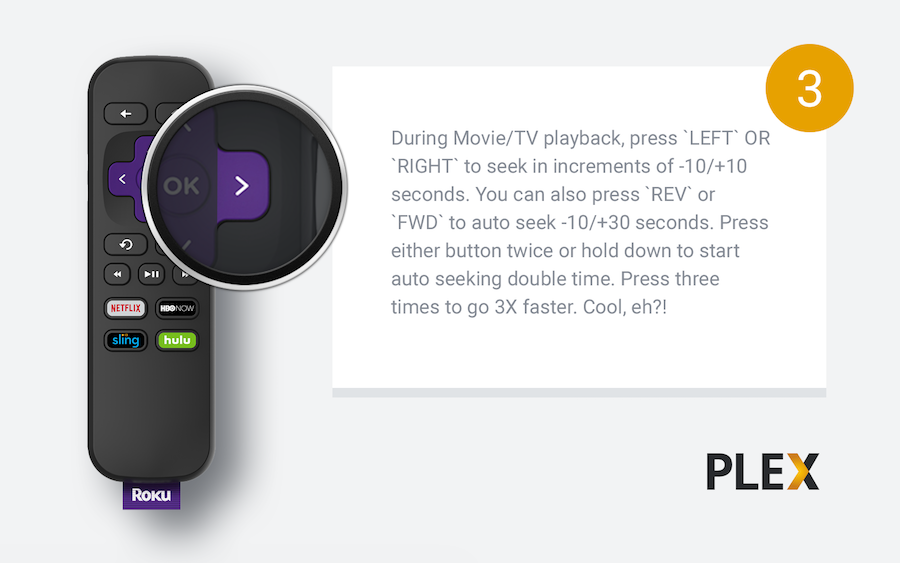 Tip #4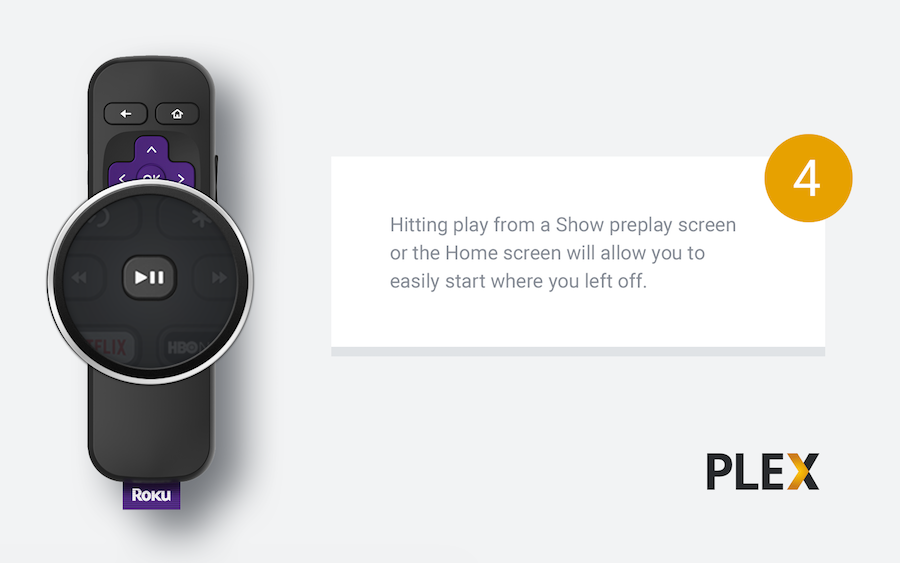 Tip #5 – Quickly move between TV libraries, seasons, and episodes by selecting the 'Ellipsis' menu in the left nav.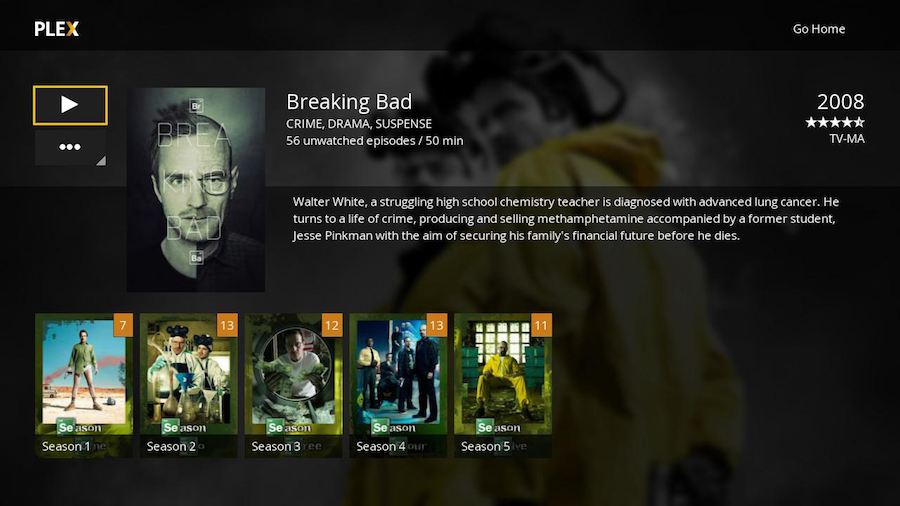 These remote navigation tricks should save you time and get you watching your own beautiful media quicker than ever.
Lastly, just a quick word about Plex Pass, our premium offering. What could be better than running Plex for free you say? Well, Plex Pass offers some enviable, cool features like Premium Music, including lyrics, Plex Mix and Mood Mix, artist bios and enhanced album extras. Plex Pass also enables you to record HDTV over-the-air with Plex DVR, then easily watch on your Roku device. Wow!  Want to watch your media on a long car ride with no Internet? Mobile Sync lets you store a local copy of 'Dora the Explorer' so you can get 30 minutes of uninterrupted drive time. Speaking of kids, Plex Pass enables Parental Controls and controlled user access. Rest easy knowing that the right content is seen by the right folks.
For more info on Plex on the Roku platform go here. Happy Plexing!
*The 4K experience requires a compatible 4K TV and 4K content. HDR requires a compatible HDR TV and HDR content. Such content will not be available on all channels. Check with the channel partner for specific bandwidth requirements to access its 4K and HDR content. 60 fps requires a compatible TV & content.
The post 5 tips to navigate Plex like a Roku ninja! [guest post] appeared first on The Official Roku Blog.
Source: Official Roku Website