Hey Streamers! Sweater weather is here, which makes cuddling up with amazing shows even more appealing. We're very excited to introduce a new channel on our Premium Subscriptions roster — AMC+, which is available through Premium Subscriptions on The Roku Channel!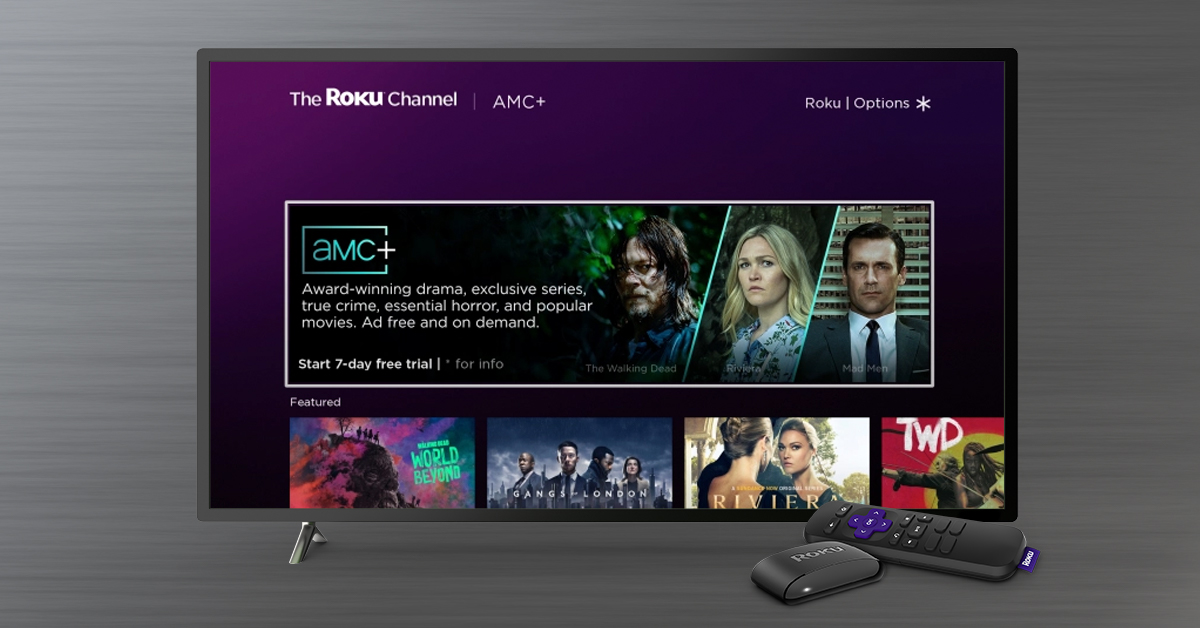 AMC+ is a new premium streaming bundle that includes AMC's popular and award-winning programming plus full access to the streaming collections from Shudder, Sundance Now and IFC Films Unlimited. With AMC+ you get early access to your favorite AMC shows (including The Walking Dead!), plus exclusive new series like Gangs of London, plus fan favorite and critically acclaimed movies, and special seasonal collections (Christmas movies, anyone?) all in one place!
Additionally, AMC+ is part of Black Friday deals on The Roku Channel. New subscribers will get up to 50% off the monthly subscription for the first three months!
What can you watch on AMC+?
A LOT! As a bundle, AMC+ offers the latest programming from AMC, BBC America, IFC, and SundanceTV plus access to three additional streaming services: Shudder, Sundance Now, and IFC Films Unlimited. You can enjoy film favorites, plus acclaimed original series, exclusive dramas, horror, true crime and more. With your subscription, all of this content will be available on-demand and ad-free!
How much does AMC+ cost?
AMC+ costs $8.99/month.
What AMC+ offer is available for Black Friday?
New AMC+ subscribers can take 50% off the first three months. The Black Friday offer is redeemable on The Roku Channel from November 25 until December 4, 2020.
How do I subscribe to AMC+ on The Roku Channel?
AMC+ is available through Premium Subscriptions on The Roku Channel. To subscribe, visit here.
Featuring The Walking Dead, Mad Men, Gangs of London, A Discovery of Witches, Creepshow, Riviera, and more, you'll get to stream binge-worthy, critically-acclaimed shows, fan-favorite movies, and new featured collections each month. What are you most excited to watch on AMC+?
Happy Streaming!
The post AMC+ available on The Roku Channel in time for Black Friday appeared first on The Official Roku Blog.
Source: Official Roku Website