A medida que se acercan las fiestas navideñas, todos andamos pensando qué le podemos regalar a todas las personas en nuestra lista. Si se te antoja comprar un nuevo producto Roku, ya sea para ti o para regalarle a alguien en tu lista, tenemos una oferta especial que te puede interesar.
Durante un tiempo limitado, cuando compras un nuevo reproductor Roku o un Roku TV, podrás disfrutar de 3 meses gratis de EstrellaTV.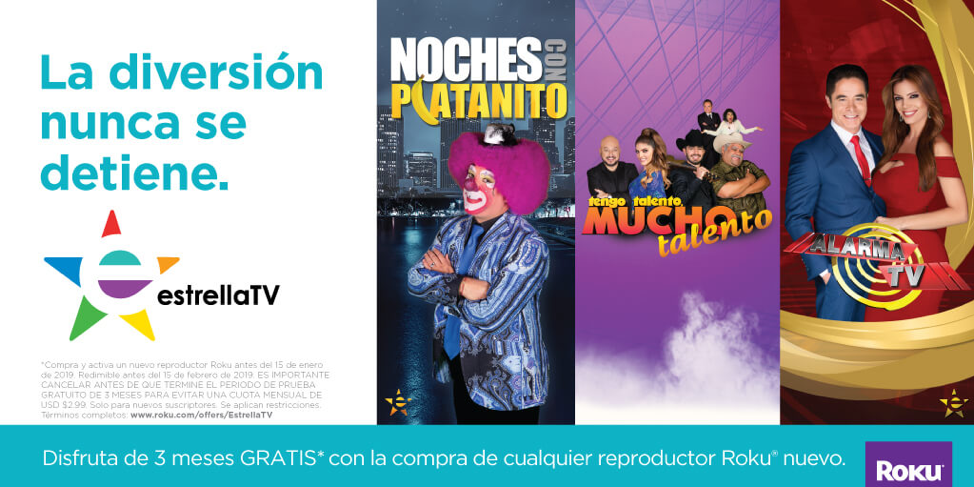 EstrellaTV es un canal de televisión que ofrece programación dinámica y divertida en español. El canal tiene una gran variedad de programas de noticias, programas de reality, entretenimiento y comedia. Programas en EstrellaTV incluyen:
Noches de Platanito: Un tradicional Talk Show nocturno conducido por el internacionalmente conocido, Sergio Verduzco, y co-conducido por David Villalpando.
Rica Famosa Latina: Una serie original siguiendo la vida de las hermosas y exitosas latinas que están viviendo el "Sueño Americano" pero aun así tienen sangre latina corriendo por sus venas.
Noticiero EstrellaTV: Noticias en vivo que se transmite de lunes a viernes a las 5:30 pm Este/Pacífico y 4:30 pm Centro. Cada tarde la comunidad latina en Estados Unidos tendrá información veraz y oportuna sobre todo el acontecer a nivel nacional y en sus países de origen.
Te invitamos a visitar aquí para obtener más información sobre esta oferta, la cual es válida en toda América Latina hasta el 15 de enero del 2019, ¡así que aprovechen!
The post Aprovecha 3 meses gratis de EstrellaTV con Roku appeared first on The Official Roku Blog.
Source: Official Roku Website