Tenemos una promoción especial que no te vas a querer perder. A partir de hoy, si compras cualquier dispositivo Roku nuevo, recibirás un mes gratis de DIRECTV GO. Y por si fuera poco, también podrás disfrutar de la mejor programación de HBO como parte de esta oferta especial.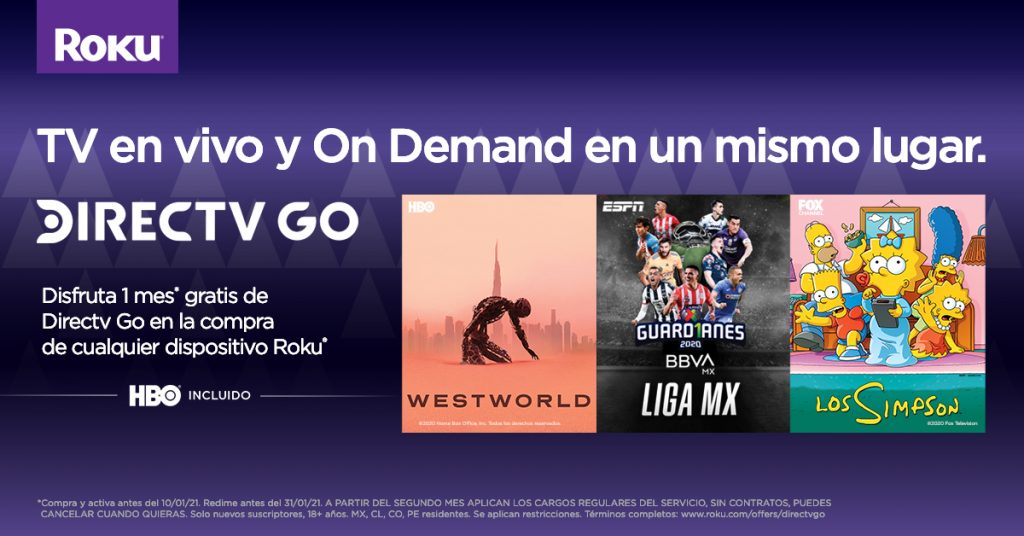 DIRECTV GO combina lo mejor de dos mundos, televisión en vivo y contenido on demand. Disfruta una experiencia de entretenimiento con más de 70 canales y contenido on demand de series, deportes, documentales, estrenos y películas.
Además, DIRECTV GO ofrece un extenso catálogo on demand que incluye series taquilleras, películas, programación infantil y una amplia oferta de contenido deportivo.
Aquí están algunos de los canales que puedes disfrutar en DIRECTV GO:
Locales: Azteca Mundo, ADN 40, Imagen Multimedia, Azteca Corazón y Azteca Cinema
Noticias: CNN, CNN en Español
Películas y Series: Cinemax, AMC, TNT, Sony Channel, WB, FOX Channel, Paramount Network
Deportes: Fox Sports, ESPN
Niños: Cartoon Network, Discovery Kids, Disney Junior, Disney Channel
Además, podrás disfrutar de toda la programación de HBO, incluyendo series favoritas como WestWorld, Lovecraft Country, Game of Thrones y Band of Brothers.
Para redimir tu oferta de 1 mes gratis de DIRECTV GO con HBO, simplemente compra un dispositivo Roku nuevo e instalas el canal. Luego te llegarán los detalles por email para redimir la oferta.
Esta oferta es solo válida en México, Chile, Colombia y Perú con la compra de un dispositivo o Roku TV nueva. Es válida desde el 29 de octubre del 2020 hasta al 10 de enero del 2021 para poder recibir esta oferta. Tendrás hasta el 31 de enero del 2021 para redimir la oferta.
¡Aprovecha de esta súper oferta con DIRECTV GO y HBO!
The post ¡Aprovecha esta promoción de DIRECTV GO! appeared first on The Official Roku Blog.
Source: Official Roku Website