As a college student, it can be difficult to stream your favorite movies and TV shows without spending hundreds on pricey entertainment packages. But since I started using my Roku player, I've been able to bring my favorite movies and shows from home back to school without breaking the bank. Here are some of my back-to-school streaming tips to help you (and your roommates) start streaming!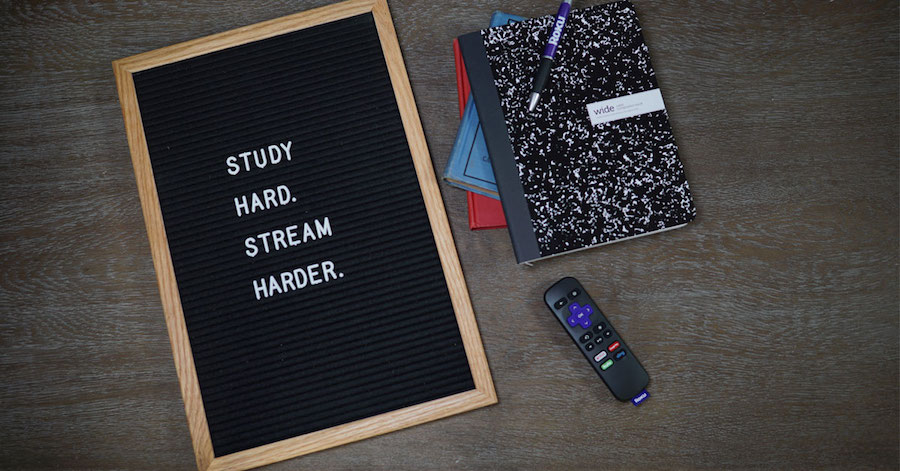 1. De-clutter your space
If you're living in a dorm, you need to use your space wisely, especially if you're living with roommates. Roku players are affordable, sharable, and space-saving devices that help you make the most of your small space. If you want everything built-in, opt for a Roku TV!
2. Check up on your college's free subscriptions
Many colleges and universities offer their students free or discounted access to premium streaming services. For example, students at USC, UCLA, and UNC can stream HBO GO for free (you can see the full list of schools here). Make sure to check your school's housing website to see if you qualify for any free services!
3. Use Roku Search to find free content
When finding your favorite movies and shows, Roku Search will show you where you can find those titles for free or their lowest cost. With free-only channels like The Roku Channel, Pluto TV, and Tubi TV, you'll be surprised how many of your favorite movies and shows for free!
4. Set a streaming schedule for you and your roommates
If you're obsessed with reality TV and your roommate only watches crime dramas, post a schedule to split up screen time between you and your roommates throughout the week—maybe they'll even get you hooked on your new favorite show!
5. Use private listening during quiet hours
If it's late at night and your roommates are sleeping or studying, you can still stream using  our private listening feature! Just plug your headphones into your Roku remote (available on select Roku players) or mobile phone to stream without disturbing your roommates or neighbors.
Happy Streaming!
The post Back-to-school streaming tips appeared first on The Official Roku Blog.
Source: Official Roku Website