Peloton's library of fitness content just gained a new addition: Barre. One of Peloton's members' most-requested class types, Barre is now available on demand on the Peloton Roku channel.
If this is your first time encountering barre workouts, get ready for a killer strength workout disguised as a low-impact, ballet-inspired practice infused with elements of yoga and Pilates. These classes are light on equipment – no heavy dumbbells required. Instead, you'll use slow and controlled exercises within a narrow range of motion to make major gains in strength and flexibility.
Taught by Peloton instructors Ally Love and Hannah Corbin, Barre workouts incorporate the same dynamic playlists that make every Peloton class a party – if you like getting stronger while moving to the beat of the music, Barre classes are for you.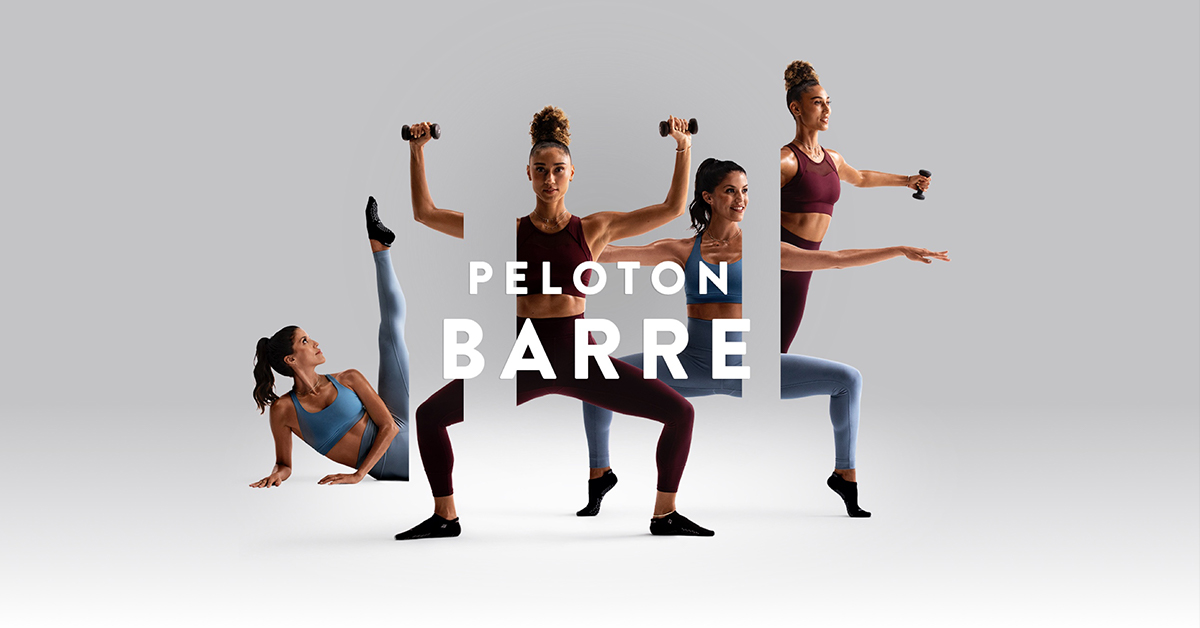 So you think you know Barre?
If you have some preconceived notions about what a Barre class is like, Peloton is here to shake them up. As Hannah says, "forget what you know about Barre, because we are kicking up the fun and bringing a whole new spicy vibe!" Here are three Barre misconceptions that Ally and Hannah want to clear up:
It's only a workout for people who identify as female.
"No, it's for everyone!" Ally says. "Peloton is a community that recognizes that your gender does not inhibit your ability to accomplish anything you want. That includes Barre."
Low impact means it isn't hard work.
"Let's get it straight here: Barre is low impact, but you will SWEAT. If it were easy, it wouldn't be as fun!" says Hannah.
Barre is only helpful for experienced dancers.
As we age, our balance becomes a key consideration. "The ability that Barre has to help you find your sense of awareness in space is really important," says Ally, which makes the discipline a critical component of any fitness regimen designed with longevity in mind.
How to take Peloton Barre classes
Barre classes are available within the Peloton Roku Channel under "Strength." After selecting "Strength," tap "Filter" to open filtering options, and select "Class Type" to find Barre.
To get started, just bring yourself and a positive attitude to the mat! Some classes may be easier with a prop for balance, so feel free to situate yourself with a hand on a wall or grab a chair from your kitchen to grab if you need. These classes are designed for all levels, which means you can come back to them again and again as you build strength and are able to improve your form, add reps, and continue progressing into the movements.
Hannah's excited for members to experience a whole new side of what Barre can be: "Maybe you think you know what Barre is, but you don't know our version, and our version is bright colors, big energy, lots of laughs and challenging your body in new and exciting ways." Ally continues, "you'll get to do all this while experiencing my quirky personality, off the Bike! Barre is fun, and don't let anyone tell you otherwise." 
Get to know Ally and Hannah
Aside from workouts on the Peloton App, Ally and Hannah are queueing up some stellar TV shows on their Roku devices.
Hannah's picks: "Luther on Hulu cuz Idris Elba is my everything, The Boys on Prime Video for some good butt-kicking action, and Peaky Blinders on Netflix because the acting is incredible!"
Ally's picks: "I love fun, 20-minute TV. I'm watching Community, which is an old show, and I love Schitt's Creek. I'm obsessed with Mindy Kaling's show Never Have I Ever, and I also love the cartoon Avatar. I'm always a huge fan of Bob's Burgers so maybe I'll go back and watch it again!"
Happy Streaming!
The post Barre classes are now streaming on Peloton on Roku devices appeared first on The Official Roku Blog.
Source: Official Roku Website