A partir de hoje, os usuários da Roku no Brasil poderão desfrutar da programação ao vivo e sob demanda da DIRECTV GO, que inclui o melhor da produção nacional e internacional de esportes, filmes, séries de TV e muito mais!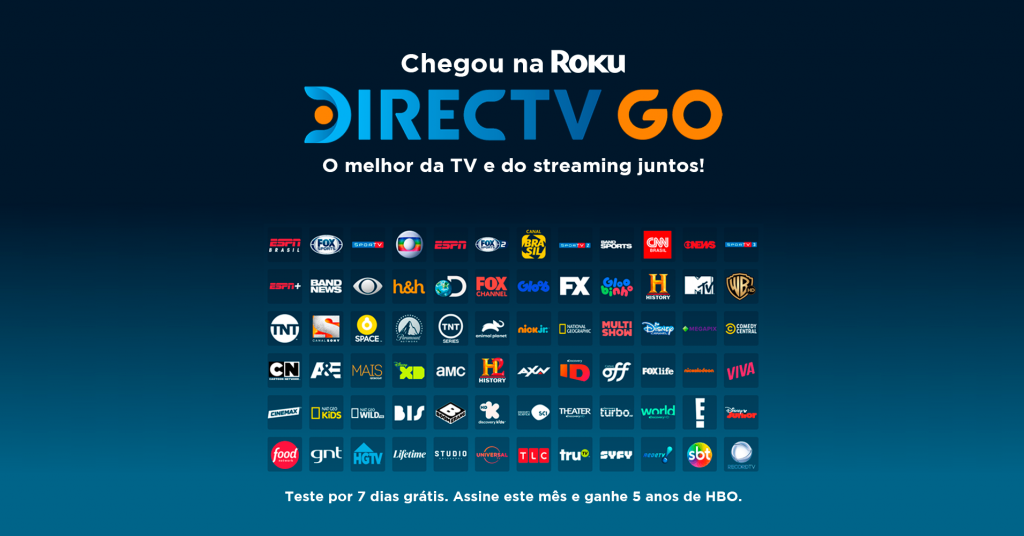 Se você ainda não conhece o serviço, vale a pena conhecer! A DIRECTV GO é uma experiência de entretenimento over-the-top (OTT) que combina TV ao vivo e linear com conteúdo streaming.
O serviço iniciou operações hoje no país e acessando o canal DIRECTV GO na plataforma da Roku, os usuários vão encontrar uma incrível experiência de entretenimento em uma oferta de mais de 90 canais.
Além disso, os fãs de esportes não vão se decepcionar! A DIRECTV GO oferece seleção completa, trazendo os melhores campeonatos ao redor do mundo. Se você é daqueles que não perde uma partida, não perca tempo!
Confira algumas opções disponíveis na DIRECTV GO:
Canais ao vivo: Rede Globo de Televisão, RECORD TV, SBT, Band e Rede TV!
Filmes: Megapix, Cinemax, Paramount Channel
Notícias: GloboNews, CNN Brasil e BandNews
Série de TV: AXN, Universal Channel, TNT
Esportes: SporTV, FOX Sports, ESPN BR, SporTV 2, SporTV 3, ESPN, FOX Sports 2, BandSports e ESPN 2
Interesse geral: National Geographic Channel, HGTV, A&E, History Channel, Food Network
Família: Cartoon Network, Discovery Kids, Gloob, Nickelodeon, Nick Jr., Boomerang, Disney Channel, Nat Geo Kids
Se você é usuário da Roku, poderá encontrar a DIRECTV GO na Loja de Canais Roku localizada na tela inicial do seu dispositivo, aqueles que aderirem ao novo serviço no primeiro mês de lançamento ganham 5 anos de acesso aos canais premium HBO. Para acessar DIRECTV GO basta entrar no site www.directvgo.com e aproveitar o período de teste de sete dias, sem contrato físico e impressos ou serviços de instalação.
The post DIRECTV GO chega à Roku no Brasil appeared first on The Official Roku Blog.
Source: Official Roku Website