'Tis the season to be streaming! Starting today, we're spreading some holiday cheer with "Winter StreamLand" on The Roku Channel. This new initiative features curated collections of hit movies and TV shows, live TV channels, kids and family entertainment, plus unlocked premium content in an experience designed to help you escape, relax, unwind, and stay warm. Plus, for the first time ever, we're partnering with iHeartRadio to bring America's most popular iHeartRadio holiday music stations to The Roku Channel in the U.S. for free through December.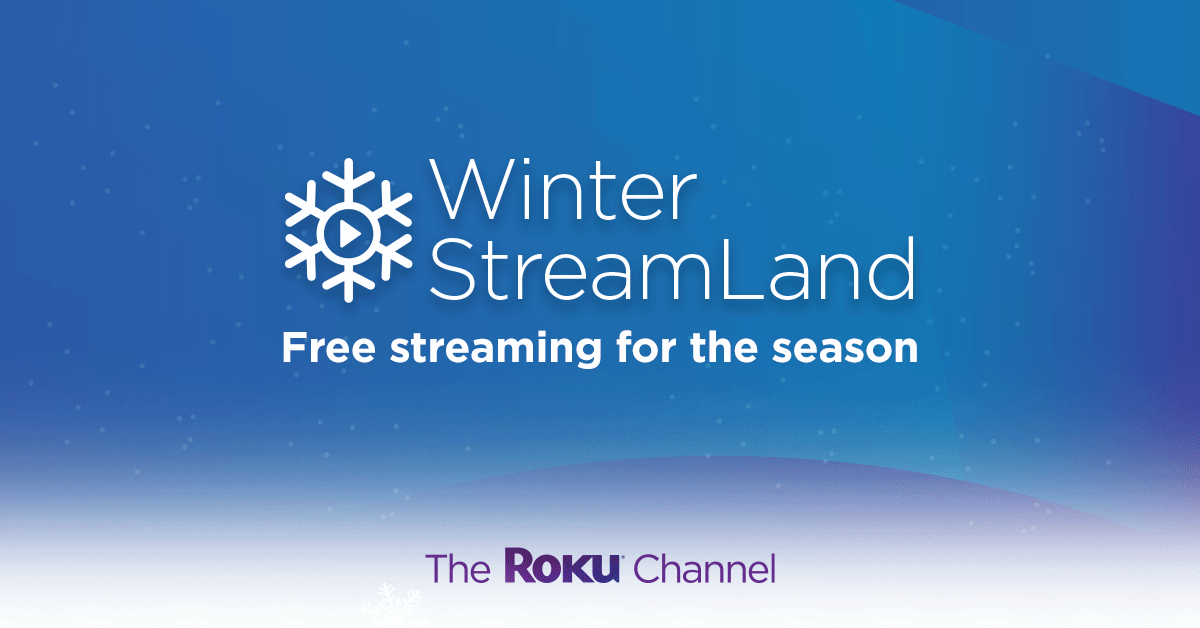 Unlocked premium entertainment
For the entire month of December, unwind with complete unlocked first seasons of premium TV shows, holiday movies, and more for free with no subscription required. Entire full seasons available free of charge during Winter StreamLand include:
The Affair (SHOWTIME)
The Bureau (SundanceNow)
City on a Hill (SHOWTIME)
George Gently (AcornTV)
A House Divided (Urban Movie Channel)
Blaze and the Monster Machines (Noggin)
The L Word: Generation Q (SHOWTIME)
Ray Donovan (SHOWTIME)
The Restaurant (SundanceNow)
The Spanish Princess (STARZ)
Work in Progress (SHOWTIME)
Get in the holiday spirit with these free movies:
A Majestic Christmas (Hallmark Movies Now, available free through 12/13/20)
Marrying Father Christmas (Hallmark Movies Now, available free through 12/13/20)
Love at the Christmas Table (Lifetime Movie Club, free through 12/31/20)
A selection of popular episodes from partners such as Acorn TV, AMC+, A&E Crime Central, BET+, EPIX, KOCOWA, Pantaya, Qello Concerts by Stingray, SHOWTIME, Shudder, Stingray Karaoke, Topic, UP Faith and Family, and Urban Movie Channel, are also available for free on The Roku Channel for most of December*.
Free movies and TV episodes
From free hit movies, such as Air Force One, The Hunger Games complete series, and The Rock, to bingeworthy TV like Army Wives, Cold Case, Xena, and more, The Roku Channel has something for everyone. A variety of curated collections will be available this month including Family Fun, Seasonal Streaming, and  Get Cooking plus new and familiar favorites: :
12 Days of Holiday Cheer on Kids & Family: Starting on December 13, Kids & Family on The Roku Channel will debut "12 Days of Holiday Cheer," featuring specially curated collections and popular children's programs including, Cave Club Series, Hot Wheels, Jillian's Mystery Craft Box, Like Nastya, and many more.
The Roku Channel en Español: A new, Spanish language collection will be available, giving you easy access to Spanish language movies, TV and live channels.
Live/Linear TV: Live/linear TV will be in full effect this December with movies, music, marathons, and more.
iHeartRadio holiday stations on The Roku Channel
For the first time ever, America's most popular iHeartRadio holiday music stations will be available for free on The Roku Channel. Starting today, and running through the new year, you can get into the holiday spirit with timeless stations like:
iHeartChristmas
iHeartChristmas Classics
iHeartChristmas Country
iHeartChristmas R&B
iHeartChristmas Rock
Are you excited for Winter StreamLand on The Roku Channel? Now go kick your feet up and enjoy some of this free entertainment.
Happy Streaming!
* Select content from participating channels only. Limitations apply. Unlocked premium entertainment availability dates vary, Please visit Free Premium Movies & TV to view the current selection of unlocked content.
The post Enjoy free, unlocked entertainment during Winter StreamLand appeared first on The Official Roku Blog.
Source: Official Roku Website