The end is coming. Season 8 of Game of Thrones is upon us. And if you're as excited as we are, you've been counting down the days, re-watching episodes on HBO on The Roku Channel, and reading all the predictions the internet has to offer about what the final six episodes will bring.
In order to mark the ending of such an iconic series, we've partnered with HBO to create something very special. For the first time ever, we've produced six limited edition Game of Thrones skinned Roku Ultras! And all you have to do in order to be eligible to win one of these babies is to follow the instructions below.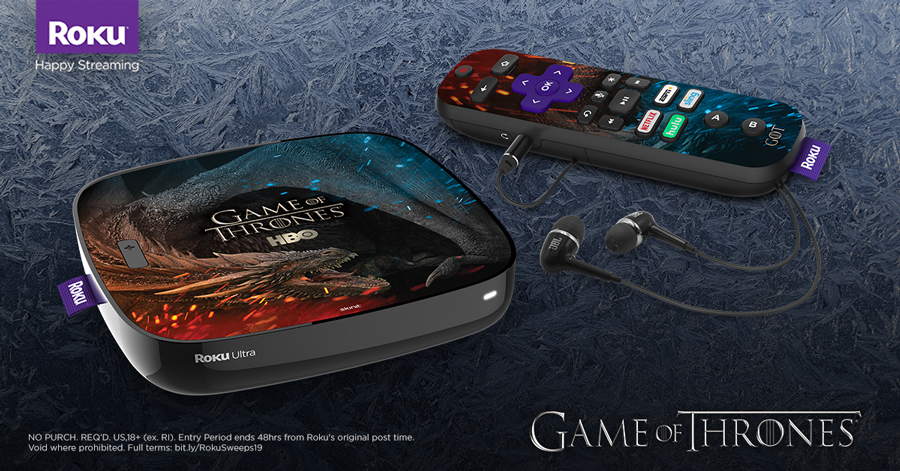 Here's how you can enter for a chance to win:
Follow @Roku on Twitter.
Every Monday at 10am PT following a new episode, we will be posting a question about the series. In order to enter, all you have to do is reply to the tweet with your answer + #RokuGOTSweepstakes.
All answers will be entered to win an exclusive Game of Thrones Roku Ultra!
Winners will be selected 48 hours later and will be notified via Twitter.
Simple, right? This is the perfect Roku streaming player for the ultimate Game of Thrones fan so let it be known, your watch has begun.
Don't have a subscription yet? Start your 7 day free trial of HBO on The Roku Channel today.
Happy Streaming!
The post Here's your chance to win a limited edition Game of Thrones Roku Ultra! appeared first on The Official Roku Blog.
Source: Official Roku Website