Our favorite week of the year has arrived! This year, National Streaming Week begins May 13 and ends on May 20. Celebrate with us all week long by streaming full seasons of handpicked TV shows, entering for a chance to win some fantastic prizes, or by taking advantage of some great deals on Roku players. In addition, we're celebrating the introduction of new music channels to The Roku Channel with a sampling just in time for Streaming Week.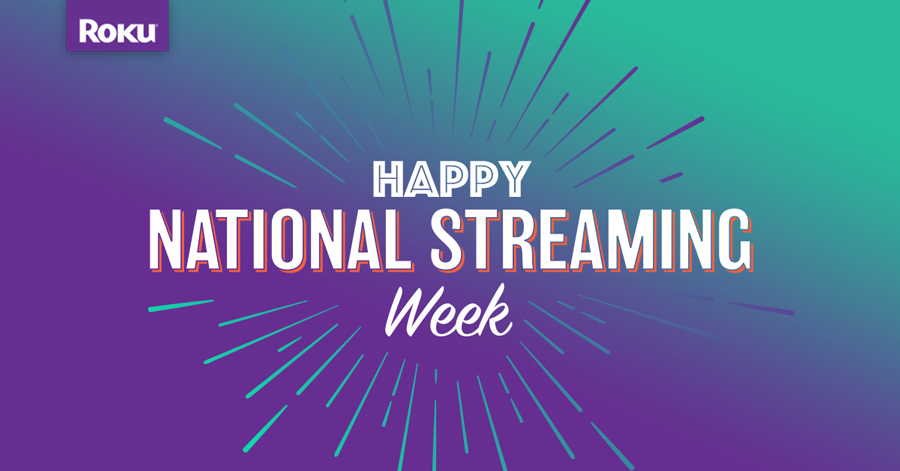 FREE ENTERTAINMENT AVAILABLE MAY 13-20
We've teamed up with some of your favorite networks to deliver handpicked shows for free all week long. To access all of this free entertainment, simply navigate to the Featured Free section on the left hand side of the Roku home screen.
HBO | Big Little Lies (S1)
SHOWTIME | Ray Donovan (S1), Billions (S1), The Affair (S1)
EPIX | Deep State (S1)
NBC | New Amsterdam (S1), The Enemy Within (S1), The Village (S1), Making It (S1), AP Bio (S1)
HGTV | Property Brothers (S1-S15)
History Vault | America, The Story of Us (S1)
Lifetime Movie Club | Jodi Arias:  Dirty Little Secret (Movie)
Cinemax | Strike Back (S5)
CW Seed | The L.A. Complex (S1), Alcatraz (S1), The Secret Circle (S1)
Adult Swim | Rick and Morty (S1), Aqua Teen Hunger Force (S1-11)
Food Network | BBQ Blitz (S1), BBQ with Bobby Flay (S3), Kids BBQ Championship (S1), Burgers Brews & Que (S1–S4)
TLC | 90 Day Happily Ever After? (S1), My 600Lb Life (S5), Little People Big World (S1)
Travel Channel | The Dead Files (S1-10)
Science Channel | BattleBots (S3)
Animal Planet | The Vet Life (S1), Dr. Jeff (S1)
Discovery | Naked and Afraid XL (S2), American Chopper (S1), Raging Planet (S1), Storm Chasers (S1-5), Nature's Deadliest (S1), Beyond Survival with Les Stroud (S1), Jungle Gold (S1)
Stingray Qello | Ellie Goulding: Main Square Festival, Maroon 5: Live at Casino de Paris, A$AP Rocky + A$AP Ferg: Live at The Hordern Pavilion, Hall & Oates: Live at The Sydney Entertainment Centre,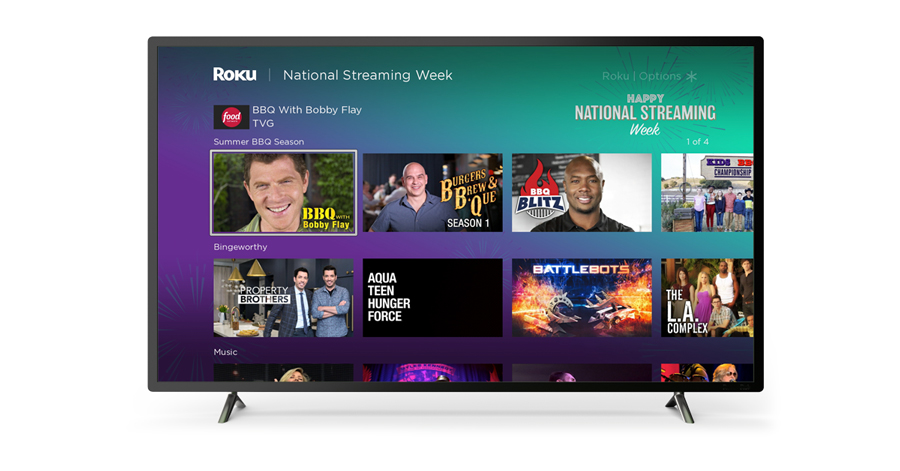 ENTER FOR A CHANCE TO WIN A ROKU TV
We've partnered up with Westinghouse to give one lucky winner a Westinghouse Roku TV along with a pair of Roku TV Wireless Speakers. Enter daily to increase your chances of winning!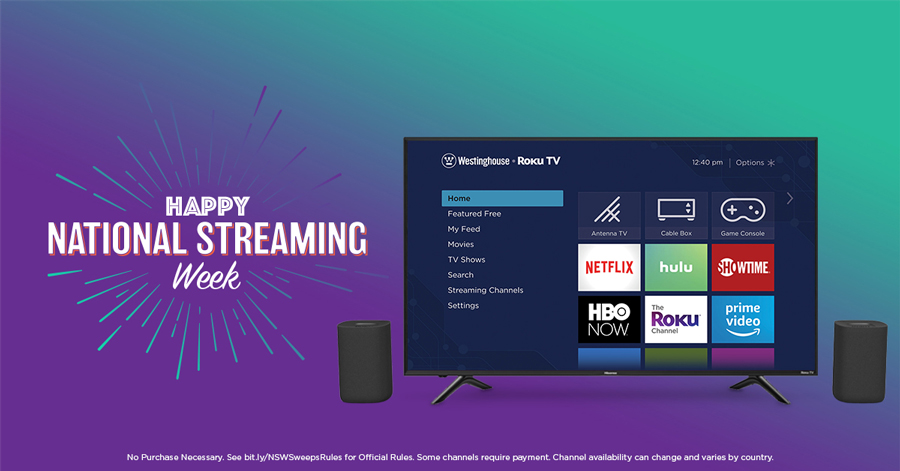 Some of our partners are also joining in on the fun and giving away some Roku players and Roku TVs! We'll update this list as the giveaways roll in.
NBC | Enter for a chance to win a Hisense Roku TV and a pair of Roku TV Wireless Speakers
SAVE MONEY ON ROKU STREAMING PLAYERS
Looking for a new streaming player? We've got you covered. Until May 25th, get $10 off Roku Streaming Stick, $10 off Roku Streaming Stick+, and $20 off Roku Ultra. While supplies last on Roku.com and at participating retailers!
INTRODUCING NEW MUSIC VIDEO CHANNELS AVAILABLE ON THE ROKU CHANNEL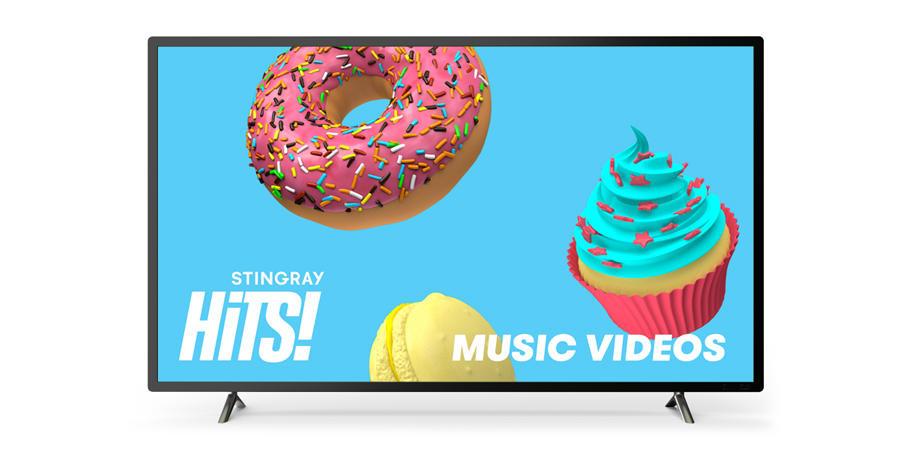 At the end of May six new, free, ad-supported linear music video channels presented by Stingray are expected to come to The Roku Channel! To celebrate Stingray's vast library of music entertainment on the Roku platform, we're partnering up to give you a sneak peek of three channels – Stingray Hits!, Stingray Country, and Stingray Latin Hits – during National Streaming Week. Stingray channels are curated by music experts to offer lean-back entertainment for music lovers of any genre. Here's the full list of what's expected at the end of May:
Stingray Retro – Great music never goes out of style. Rewind to the biggest hits of the '80s, '90s, and early '00s with enduring icons like Madonna, Bruce Springsteen, Bon Jovi, Depeche Mode and more.
Stingray Hits! – Massively popular music videos by today's hottest stars with a dose of all-time favorites from the past 20 years, including chart toppers like Dua Lipa, Rita Ora, Charlie Puth, Bebe Rexha, Maroon 5, Coldplay and more.
Stingray Loud – Rock, metal, punk, and alternative music videos that are brash, hard and raw, featuring high voltage rockers like Nirvana, Disturbed, Foo Fighters, Green Day, Twenty One Pilots, Ghost, Metallica, Radiohead, Three Days Grace, Greta Van Fleet and more.
Stingray Vibe – Hip-hop, R&B, EDM, dance, and rhythmic pop artists – like Drake, Cardi B, Post Malone, Future, Eminem, Juice Wrld, Beyonce, Kendrick Lamar, Weeknd – who set the scene.
Stingray Country – The best of new country, bro country, '90s country, pop country, and smooth ballads and more. Check out storytellers like Luke Bryan, Blake Shelton, Carrie Underwood, Kelsea Ballerini, Dan + Shay, Casey Musgraves, Dierks Bentley, Jason Aldean, Keith Urban and many more.
Stingray Latin Hits – The best of Latin hits, tropicalbeats, romance pop, and featuring sizzling hot Spanish music stars like Enrique Iglesias, Nicky Jam, Bad Bunny, Ozuna, Luis Fonsi, Carlos Vives, J-Lo, Selena, Marc Anthony and many more.
JOIN IN THE FUN ON SOCIAL MEDIA
All week long, we'll be celebrating National Streaming Week on Facebook, Twitter and Instagram. Keep an eye out for giveaways, free entertainment, and we have something special planned on May 17 at 10am PT over on Twitter. There may be chances to win some Roku goodies…
Lastly, we want to see how you're celebrating. Tag us and use the hashtag #StreamingWeek on Twitter or Instagram and we may just repost your photo or video.
Now go enjoy all of this free entertainment.
Happy Streaming!
The post National Streaming Week: free entertainment, giveaways, plus new music channels coming to The Roku Channel! (2019) appeared first on The Official Roku Blog.
Source: Official Roku Website