O nosso aplicativo está de cara nova!
Redesenhamos o aplicativo da Roku para incluir novos recursos que facilitarão ainda mais a navegação pela plataforma e o acesso ao seu conteúdo de streaming favorito. Caso você ainda não saiba, o aplicativo da Roku é gratuito e está disponível para download em dispositivos Android e iOS.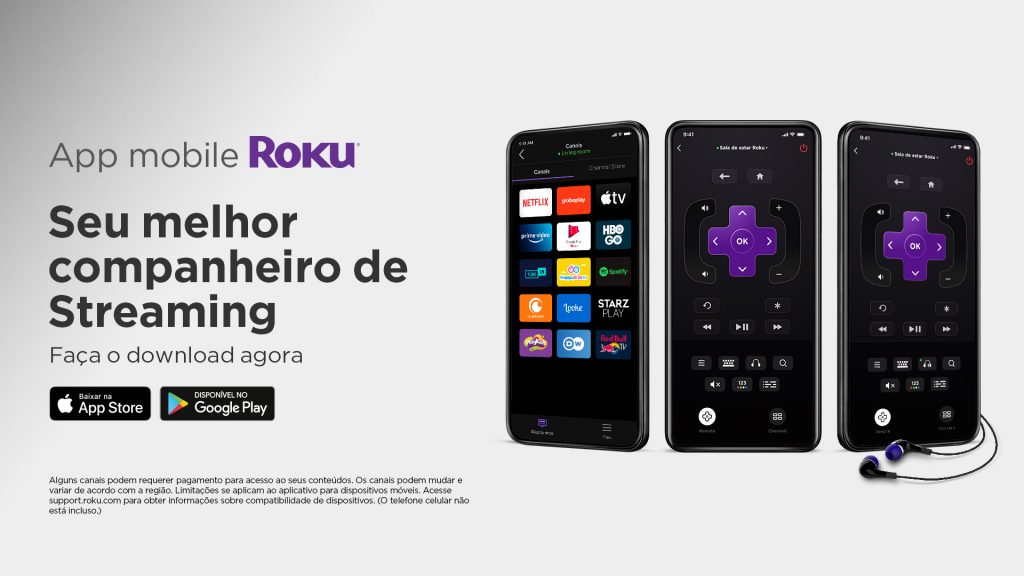 Algumas novidades importantes:

Nova barra de navegação
A primeira alteração que você vai perceber na versão atualizada é uma nova barra de navegação. A barra permanecerá na parte superior da tela do celular enquanto você estiver conectado a um dispositivo Roku e oferecerá rápido acesso a um menu. Este menu mostrará todos os dispositivos Roku disponíveis, o que facilitará a troca do dispositivo que você deseja controlar no momento. O menu inclui ainda um atalho para acessar rapidamente a tela do controle remoto.

Controle remoto simples
Uma das funções mais populares do aplicativo é a possibilidade de usar o seu celular como controle remoto. A tela do controle foi atualizada para um design mais simples e "clean", e passou a incluir também um novo ícone de "acesso rápido", que facilitará o acesso aos seus canais mais recentes diretamente na tela principal.

Audição privada
Outra função de sucesso é a audição privada, que possibilita a conexão de seus fones de ouvido ao celular. Com isso, você poderá desfrutar do seu programa favorito com som particular, sem incomodar ninguém ao seu redor.
Esperamos que goste do novo aplicativo e aproveite a experiência!
The post Nosso aplicativo está de cara nova! appeared first on The Official Roku Blog.
Source: Official Roku Website