Hoy estamos celebrando un momento histórico para Roku y la industria. Anunciamos las cifras preliminares para el cuarto trimestre del 2020 que terminó el 31 de diciembre y que arrojan que tenemos 51.2 millones de cuentas activas a nivel global; las cuales representan un crecimiento de más de 14 millones de cuentas durante 2020. Además, los usuarios hicieron streaming por aproximadamente 17 mil millones de horas en el cuatro trimestre para un total de 58.7 mil millones de horas en 2020; lo cual representa un incremento de 55% en ese trimestre y en el año entero.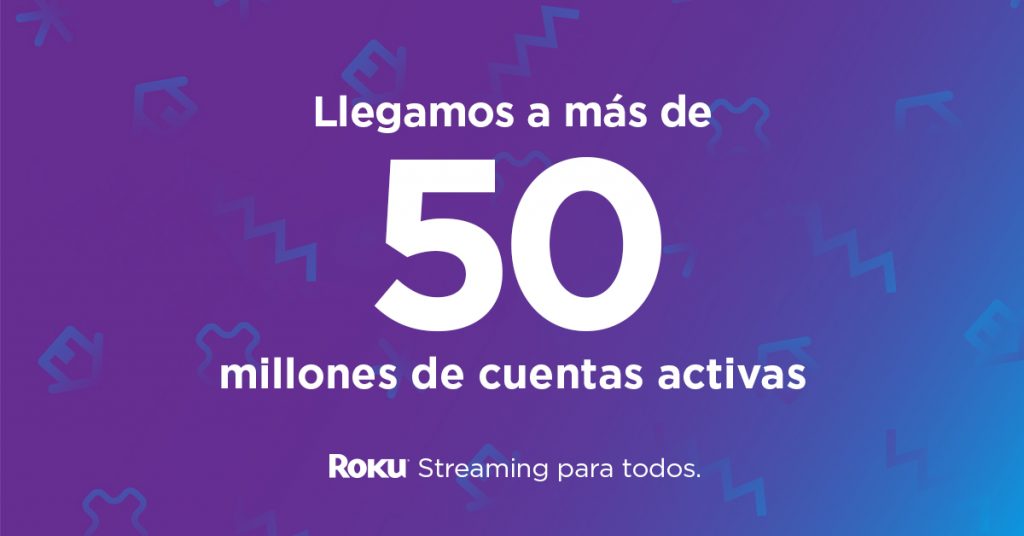 Siempre hemos creído que toda la televisión llegará al streaming y hoy estamos un paso más cerca de llegar a esta meta. De acuerdo al estudio de Roku de "cord-cutting" del 2020, casi un tercio de hogares en Estados Unidos han dejado la televisión por cable tradicional. Además, de acuerdo a eMarketer, para finales del 2024 menos de la mitad de hogares en Estados Unidos estarán suscritos a un servicio tradicional de TV paga.
Roku fue fundada en el 2002 con la misión de hacer que la TV sea mejor para todos. Hoy en día, estamos orgullos de ser la plataforma de streaming número 1 de América con base en horas de streaming, de acuerdo a Kantar. Roku cuenta con un equipo de trabajo inteligente y dedicado a la misión de crear el futuro de la TV todos los días, con un enfoque en la innovación y en crear la mejor experiencia para nuestros usuarios. Hoy, celebramos este hito con ustedes.
Gracias a todos nuestros empleados, clientes y aliados que, como nosotros, aman la TV.
Happy Streaming!
The post Roku celebra más de 50 millones de cuentas activas y 57.8 billones de horas de streaming en 2020 appeared first on The Official Roku Blog.
Source: Official Roku Website