Sabienna Bowman has been covering entertainment news since 2010. She currently writes for Bustle, Reelgood, and PopSugar.
School is officially out for the summer, and now is the perfect time to institute a family movie night. Nothing brings people together quite like movies, and setting aside a night to watch new and old favorites alike is a great way to get some quality time with the kiddos in your life. Netflix has an extensive library of kid friendly titles that parents and children can enjoy together. From Disney classics to underrated new releases, Netflix's kids section is always getting better.
That being said, no one wants to spend hours getting lost in the scroll, so we've compiled a list of the best kids movies on Netflix right now. Turn on your Roku device and prepare to stream some family friendly goodness with these titles.
And after the kiddos are out, pick something from the full New on Netflix list and enjoy!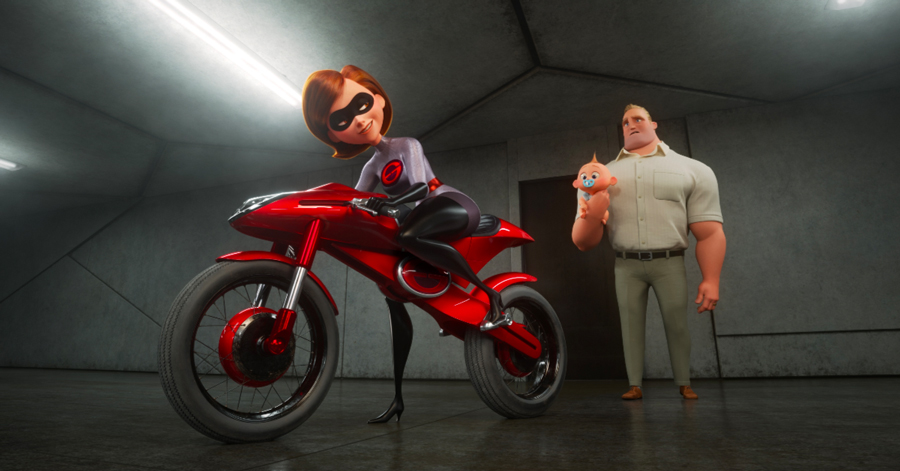 Best kids movies on Netflix right now:
Spider-Man Into the Spider-Verse (June 26)
The 2019 Best Animated Film Oscar winner is coming to Netflix on June 26, and it's an absolute can't miss whether you love superhero films or not. Miles Morales finds himself donning the Spider-Man suit in his world, but things quickly get complicated for the hero when he has to band together with his counterparts from five different universes in order to stop a threat to all of their realities. It's a wild, beautifully animated ride that will enthrall and inspire you and the kids in your life.
Fans had to wait more than a decade for Pixar's follow-up to The Incredibles, but the sequel turned out to be well worth the long delay. Super mom Helen takes center stage as the hero the world needs in this installment, leading to her husband taking on a more hands on role at home and with their kids. The reversal of traditional gender roles sends a powerful message about the importance of working together as a family, while also letting a female superhero shine.
Coco is a feast for your eyes even as it also speaks to your heart. The gentle-hearted tale of an aspiring musician's journey into the Land of the Dead packs a punch when it comes to weaving together the themes of grief and heritage. In true Pixar fashion this movie will make you sob, but it's also a moving story that could help you discuss a number of tricky topics with your children.
The Hotel Transylvania franchise is admittedly silly. But if you can't indulge in a bit of silliness when you're a kid, then when can you? In the second outing Dracula just wants his grandson to explore his vampire side, so he starts his own monster bootcamp. Wackiness quickly ensues.
The second Goosebumps movie flew under the radar, despite being a fun and lightly spooky romp. Where the first film threw every monster from author R.L. Stine's books into the story, the second movie is an all-around more subtle affair. Set during Halloween, the movie finds the always scary dummy Slappy kidnapping a kid's mom in order to have his own family. The kid and his friends have to battle a bevy of monsters to get her back.
Jerry Seinfeld's Bee Movie has garnered a cult following for its unabashed weirdness (there's a human/bee romance for starters). However, your kids are just going to see a funny film about a bee's quest to find justice for his honey making brethren. Share this modern classic with your kids now, so that you can revisit it again when they're old enough to fully grasp just how bizarre it is.
Enjoy all the Disney movies on Netflix while you can, because they're going to be scarce when Disney+ arrives this fall. For now, animated favorites like Lilo & Stitch are just a click away. And thank goodness for that, because the lessons about family imparted by this alien/kid buddy comedy are timeless.
Do your kids love all things creepy? Then Monster House is the movie they need in their young lives. The 2006 film about a group of kids trying to convince their neighborhood that one of the houses is alive has aged beautifully. Sure, digital animation has advanced in the decade plus since the movie's release, but the story's spooky heart still beats true.
Mulan is a warrior and a princess. That distinction makes her journey all the more powerful. Seeing Mulan disguise herself as a man in order to protect her family is just as inspiring now as it was in 1998. All of the Disney princesses are amazing in their own unique way, but Mulan is a diverse hero that every kid needs in their lives.
Coraline may not be suitable for younger kids, but budding horror fans will delight in this macabre stop-motion treat. The titular character finds a mysterious door in her new home that leads to alternate reality that's definitely too good to be true. From the button eyes of the Other Mother to the moody animation style, this is a children's movie that offers up real scares.
The action-packed Spy Kids franchise gets off to a rousing start thanks to the talents of its young stars Alexa PenaVega and Daryl Sabara. Carmen and Juni have to step up to save their parents when they're kidnapped by an evil mastermind. That means embracing their destinies as spies and having a blast in the process.
Christopher Robin is all grown up in this 2018 film starring Ewan McGregor. Now a family man and workaholic, Christopher has lost the sense of wonder he cultivated during his childhood in the Hundred Acre Woods. With a little help from Pooh and the rest of the gang, he has a chance to recapture the magic and share it with his own children.
Netflix took a big swing and remade the classic Benji film. Luckily for them it paid off with a heartfelt film about a dog's power to heal a broken family. This sweet adventure has all of the adorable dog moments you could possibly ask for, while also telling a compelling story about Benji helping two kids out of a dangerous situation.
James Corden has way too much fun voicing Peter Rabbit in this live-action/CGI hybrid. His Peter is even more of a mischief-maker than the one author Beatrix Potter wrote about, but kids will love every second of his prank war with the hapless Mr. McGregor. There's plenty here for adults to enjoy too, including some sly jokes that might just go over the heads of younger audience members.
Meg Murry is a hero for our times. The science-loving heroine goes on a journey through dimensions with her brother and friend in order to find her long-missing father. Not everything about this adaptation of Madeleine L'Engle's classic works, but there's enough wisdom and stunning visuals to make this kid's epic worth streaming.
Leap!
Set against a Parisian backdrop, this tale of a determined ballerina is absolutely beautifully animated. It's not just a treat for the eyes though. The movie's headstrong heroine's quest to land a role in The Nutcracker is thrilling stuff, and her hard work sends an important message to kids about chasing their dreams.
Adam Sandler plays an uncle who can't seem to grow up in this fun 2008 film. He loves to tell tall tales to his niece and nephew, but when his stories become a reality things get messy fast. Sandler is gentler here than he is in his comedies aimed at adults, and his earnestness lends the comedy a true sense of wonder. Add in some truly delightful visuals and you have a live-action kids' movie with just the right balance of heart and laughs.
You wouldn't think an adopted mouse would send an empowering message about facing adversity, but Stuart Little does just that. When he finds himself in a new home where's he not fully accepted, the little mouse faces every obstacle with pluck and an endless capacity for kindness. The end result is a sweet and funny film with plenty to say.  
Few things are more satisfying in life than sharing a personal childhood favorite with the kids in your life. Thanks to Netflix, you can introduce your children to Fievel, the young mouse who immigrated from Russia to New York City with his family. His journey is one that's full of twists and turns that will leave the whole family feeling weepy, but it's the emotional resonance of Fival's story that makes it so enduring.
The classic novel gets the animated movie treatment it deserves in this underrated gem from 2015. The movie's central plot includes a serious message about environmentalism, but it never feels forced thanks to the beauty of the animation and the inherent magic of the story.
Looking for more entertainment for the kiddos? Here are 12 free kids Roku channels.
Happy Streaming!
The post The best kids movies on Netflix right now (June) appeared first on The Official Roku Blog.
Source: Official Roku Website