Today we're excited to share that the first 4K UHD Roku TV models are available for purchase today. Three 4K UHD Insignia Roku TV™ models are available exclusively from BestBuy.com beginning today and in Best Buy stores nationwide early next month. As with all Roku TVs, the 4K UHD Insignia Roku TV models feature our award-winning Roku® operating system (Roku OS) that provides a simple smart TV experience with a personalized home screen and access to more than 3,000 streaming channels, including 10+ streaming channels that offer 4K UHD content.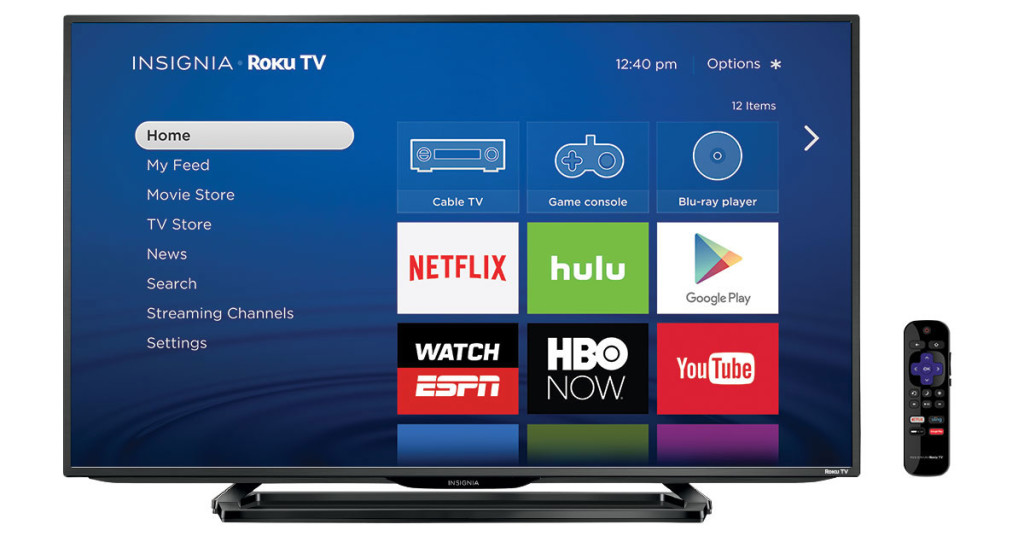 The new 4K UHD Insignia Roku TV models have a sleek bezel design and offer a number of features we've specifically designed to enhance the 4K UHD viewing experience. Those features include our 4K Spotlight Channel that provides instant access to a curated selection of 4K entertainment from a variety of streaming services in one place, helping you discover 4K content in just a few clicks of the remote. In addition, we have a 4K UHD category with more than 10 channels including Amazon Video, Netflix, PLEX, YouTube, UltraFlix and more within the Roku Channel Store to make it simple for you to add streaming services with 4K entertainment. You will have access to additional services offering 4K movies, TV shows and videos as they become available on the Roku platform in the future.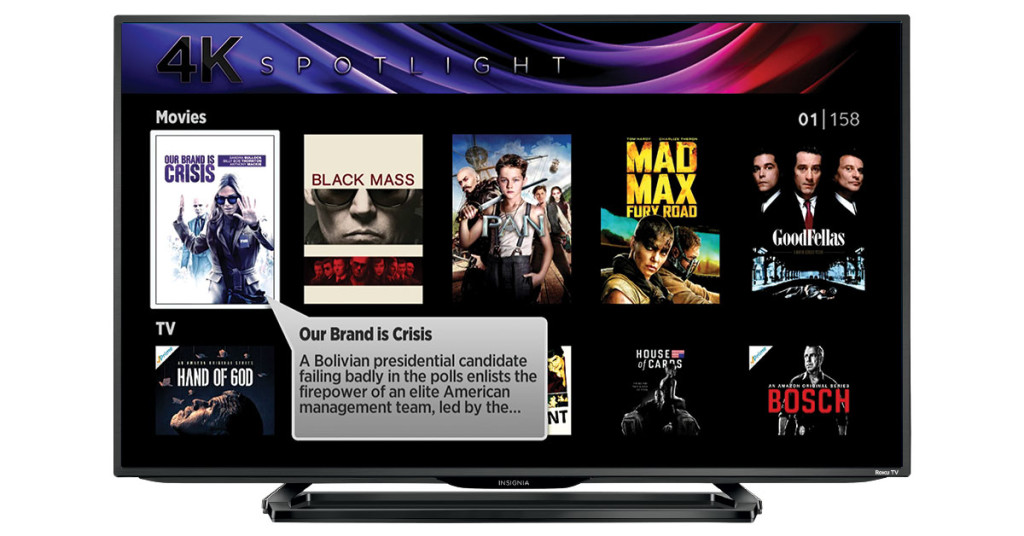 Available in 43", 50" and 55" screen sizes for $399.99, $499.99 and $649.99, respectively, the 4K UHD Insignia Roku TV models are equipped with a powerful quad-core processor and fast 802.11ac dual-band WiFi to ensure a smooth 4K UHD streaming experience.
Other great features you'll find on every Roku TV:
An easy to navigate, customizable home screen that places streaming channels alongside your favorite TV entertainment choices, such as a game console, cable box or Blu-ray player.
Access to the Roku Channel Store, which includes more than 3,000 available streaming channels with 300,000+ movies and TV episodes plus sports, music, news, fitness, and much more.
Roku's comprehensive and unbiased universal search feature helps you find availability and pricing for movies and TV shows across more than 25 top streaming channels. Search results are ordered with the least expensive (or free) results listed first.
The Roku Feed enables you to follow entertainment you're interested in and be notified when it becomes available to stream – and at what price.
Click here to learn more information on the 4K UHD Insignia Roku TV models available in Canada.
For all the latest Roku TV news, keep an eye on our blog!
Stream on!
The post The first 4K UHD Insignia Roku TV Models available at Best Buy appeared first on The Official Roku Blog.
Source: Official Roku Website