The long summer days are here, which calls for some long weekend getaways. Before you hit the road, pack your entertainment alongside your sunblock and flip flops because you don't want to be stuck in a hotel room with limited channels or a house with dusty old VHS tapes (gasp!). After a long day in the sun, kick up your feet, plug in your Roku player and make it a summer of streaming with these Roku travel tips.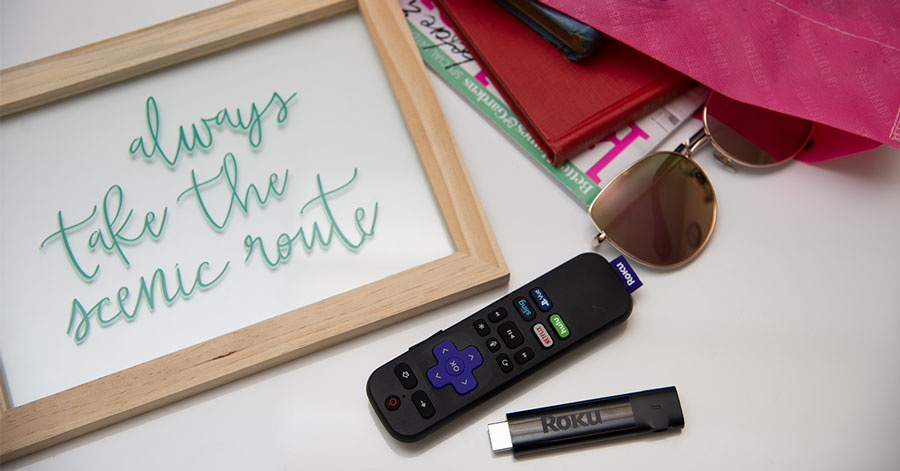 #1 Pack the essentials
Luckily Roku players are small enough to fit in even the most crammed-full suitcase. In addition to your Roku player, don't forget the power adapter, remote, accessory cables and an HDMI cord (not needed with a Roku Streaming Stick or Roku Streaming Stick+). Headphones are always a good idea so you can take advantage of tip #3 below.
Once you're all set up, connect to the internet and stream away. If you're at a hotel, reference these instructions on how to use our Hotel and Dorm Connect feature.
#2 Stream something new
Now that you finally have extra time on your hands, why not stream all those TV shows and movies on your list? You know, the ones your friends say you have to see!? Many popular Roku channels including HBO NOW, SHOWTIME, CBS All Access, DIRECTV NOW, Sling TV and YouTube TV offer free trials.
Plus, there are always hundreds of free movie and TV show episodes on The Roku Channel!
#3 Stream without disturbing
In close quarters with your fellow vacation-goers, but want to keep streaming without disturbing them? Bring your headphones and use our private listening feature. Open the free Roku mobile app for iOS or Android, plug in your headphones and tap the headphone icon on the remote screen (learn more here). Easy peasy.
Happy summer streaming!
The post Tips for traveling with your Roku player appeared first on The Official Roku Blog.
Source: Official Roku Website