DIRECTV NOW customers have exciting improvements to look forward to! Look for the new True Cloud DVR (BETA)*, fresh look, expanded on demand catalog and more. Don't have DIRECTV NOW? Add it here.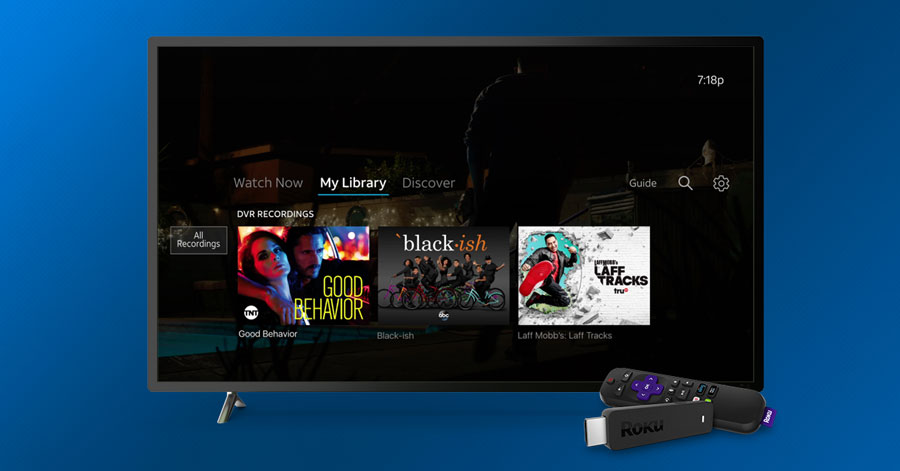 With the updated DIRECTV NOW channel, you'll enjoy things like:
True Cloud DVR (BETA) – Twenty hours of free recording is currently available during the beta testing of the Cloud DVR feature. If you aren't familiar with a cloud DVR, it makes it easy to record your favorite entertainment and watch it virtually anytime you want for up to 30 days. You can record an entire series or just one episode on almost all our channels. Fast forward and rewind at will. We're working on rolling out more capacity options and features later this summer—which will let you keep more on your Cloud DVR for longer. You'll be able to record up to 100 hours and keep it stored up to 90 days, for $10 per month.
New Look – Find your most-watched channels and favorite programs front and center. You can even view your current stream while browsing for something that you might want to watch next.
Expanded On Demand Content – Depending on your subscription choices, get access to more than 25,000 titles on DIRECTV NOW. New episodes on select channels will be available on-demand after airing, so you don't have to worry about setting up a recording prior.
Up to Three Streams at Once – Enjoy access to up to three simultaneous different streams per account. Don't want to watch cartoons with the kids? Sick of your spouse's love for reality TV? You can add a third stream for $5 per month.
Local Channels on the Road – Before, you only were able to access the local networks via DIRECTV NOW at home. Now, if you want to catch local news while you travel, you'll be able to. For example, if you watch FOX (KTTV) on DIRECTV NOW at home in Los Angeles and are traveling to Dallas, where FOX (KDFW) station is available for DIRECTV NOW customers, you'll be able to watch KDFW during your visit.
Add the DIRECTV NOW channel here or find it in the "Movies & TV" category of the Roku Channel Store.
Happy Streaming!
*Functions may be limited in beta. Compatible device required. Not available for select channels. Data connection required. Limited to 20 hours of recording time. Recordings expire after 30 days.
The post True Cloud DVR (BETA)* and new improvements now available on DIRECTV NOW on Roku devices appeared first on The Official Roku Blog.
Source: Official Roku Website