YouTube TV is popular with Roku customers looking for cable-free live TV. So, what does YouTube TV offer? Can you watch the big game? How about live news? Can you DVR hit shows? We take a deeper dive into your top YouTube TV questions below.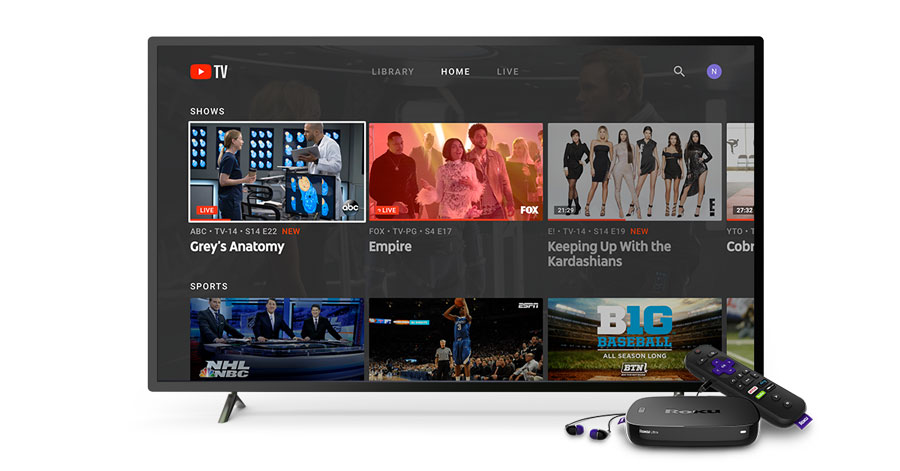 What channels are available on YouTube TV?
YouTube TV lets you watch and record live & local sports, news, and must-see shows from 60+ networks. Additional sports and premium networks are also available for an additional monthly charge. For a full list of channels availability by location, please visit this help article for more details.
Does YouTube TV feature original content?
Yes! YouTube TV provides access to YouTube Originals. Watch the latest shows, like Cobra Kai and Impulse, from YouTube's biggest stars.
How much is YouTube TV?
YouTube TV costs $40/month, and comes with 6 accounts so everyone in the household can get their own login, notifications, and personalized DVR. Add on premium networks for an additional monthly charge. You can try YouTube TV free and cancel anytime.
Can I watch my favorite shows on-demand?
Many networks provide recent episodes of shows, movies and more on demand.
Can I record shows, sports, events and movies?
Yes! YouTube TV offers cloud DVR with no storage limits, so you never miss a moment and never run out of storage space. Simply add the show, sporting event, etc. to your library and YouTube TV will take care of the rest. Add as many programs to your library as you like, stream your library wherever you go, and record simultaneously. Live TV recordings will be saved for 9 months.
What's super cool for sports lovers is you can add your preferred team or teams to your library, and any games available in your area will automatically record across any of the networks they air on.
Are local channels available in my area?
Local channels are available in many areas across the United States—check out if YouTube TV is available where you live.
Want to learn more and try it free*? Visit tv.youtube.com/roku
Stream on!
*Restrictions apply
The post YouTube TV on Roku devices: everything you need to know appeared first on The Official Roku Blog.
Source: Official Roku Website