Erin Lowry (@brokemillennialblog) is the author of the three-part Broke Millennial series and works as a "financial translator" making all things money easier for you. We invited her to share tips on how to save money and reach financial goals on the Roku blog!
I love television so much. (Yes, 30 Rock fans should read that in a Kenneth voice). In fact, the first two books I wrote, Broke Millennial and Broke Millennial Takes On Investing, are riddled with deep cut TV references. Even my wedding vows featured TV quotes.
As a money nerd, it does bring me great joy when shows serve up a money lesson in a teachable moment for a character (or reality star). The more we can normalize discussing money, the better we'll all be.
Fun fact: In my early broke millennial days, I had cable TV for a year. My first roommate didn't mind paying for cable and I didn't know how to tell her that I didn't want to pay for channels I'd probably never watch. Once she moved out and left New York, I immediately cut cable and switched to a Roku streaming device. Today, I'm still a cord cutter and Roku fan.
In celebration of my love of both TV and money savings, here's a roundup of five of the best money lessons I've learned from some of my favorite shows (which you can also stream on your Roku device!).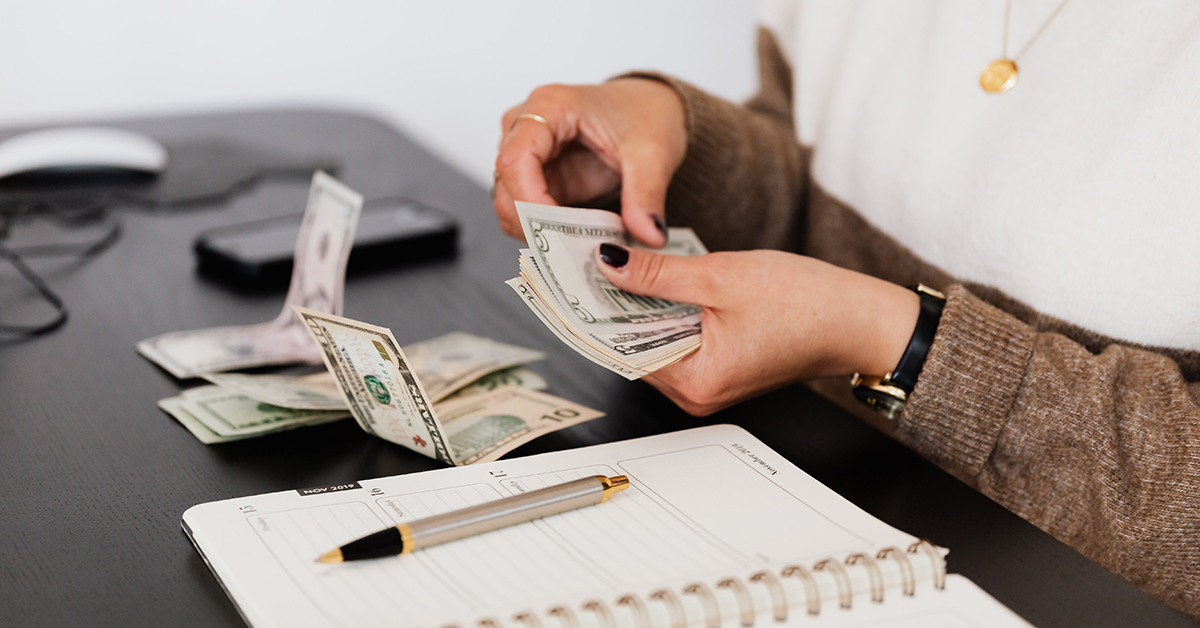 The One Where a Dad Gave Good Savings Advice
Monica: "I'm sorry I didn't tell you this before but I'm no longer at my job. I had to leave it."
Judy Geller: "Why?"
Monica: "Because they made me."
Judy: "You were fired? What're you going to do?"
Jack Geller: "Judy, Judy, relax, this is our little harmonica we're talking about. We taught her well. Ten percent of your paycheck, where does it go?"
Monica and Ross: "In the bank."
Mr. Geller: "There you go. So she dips into her savings, that's what it's there for. She's going to be fine, aren't you sweetie?"
Did you know you can watch the entire season of Friends on HBO Max? The show may be over 25 years old, but many of the money lessons hold up. Granted, in this case, Monica hadn't been saving her money, so there was no emergency fund on which she could fall back. But that's not Jack Geller's fault! His advice about how the importance of building an emergency savings fund is still foundational personal finance advice given today.
The only tweak: Jack Geller would probably increase his savings percentage to adjust for inflation between1995 and 2021.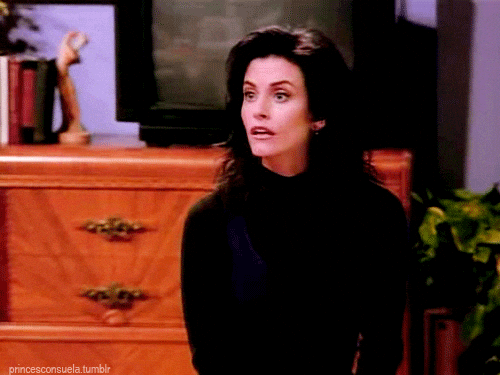 Turning Lemon's Nest Egg into Lemonade
Jack: So, what are you going to do with your money? Put it into a 401(k)?
Liz: Yeah, I gotta get one of those.
Jack: What?! Where do you invest your money, Lemon?
Liz: I've got like 12 grand in checking. 
30 Rock just may be the undisputed champion of pithy financial advice wedged into a sitcom. Jack Donaghy is Liz Lemon's boss and mentor. Jack is an unabashed lover of capitalism and Regan-era economic policies. Liz is portrayed as the bleeding-heart liberal who is focused on her art as the head writer of a SNL-spoof show called TGS.
This exchange between Jack and Liz is one of my all-time favorite TV money lessons and it briefly touches on the importance of investing and harnessing the power of compound interest to build wealth instead of trying to save your way to a major financial goal. Even more appalling, Liz's money is in checking and not even a high-yield savings account! In the mood to watch some 30 Rock? Stream all seven seasons on Hulu, Peacock, or Prime Video.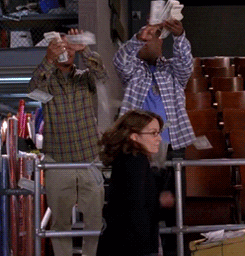 When Values Fail to Align
Jessica Huang (in response to receiving flowers as a gift): "Why do I want to watch money wilt?" 
Despite disagreeing with Jessica Huang's analysis of flowers, the comment resonates with me because it's about understanding someone's value sets. Our values dictate much of our relationship with money. Values lay the foundation for how we spend, save and invest, or at least they should.
Money issues often creep into relationships because we don't recognize or respect a person's values or boundaries. In the Jessica and Louis Huang situation, it's fair for Jessica's response to hurt Louis's feelings. However, Louis knows his wife and should've recognized that flowers wouldn't be perceived as a thoughtful gift. Stream Fresh off the Boat on Hulu for more lessons from the fabulous Jessica Huang.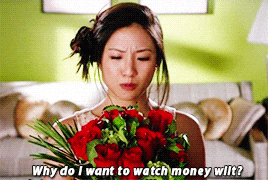 Dealing with Debt to Friends
In Brooklyn Nine-Nine (available to stream on Hulu), NYPD detective Jake Peralta is consistently portrayed as bad with money. His poor money management comes to a head when his co-workers finally ask him to make good on his debts.
Jake: "How much could I possibly owe you? Fifty, sixty bucks?"
Terry: $2,437
Jake: "Dollars?!"
Terry: "Jake, I would appreciate it if you paid me back."
Jake: "Well, that's the craziest thing anyone has ever said to me. I've been in debt to him forever and he's never cared before."
The dichotomy between how much Jake thought he owed and his actual debt is a classic example of why borrowing incremental amounts from friends can breed resentment. Even in these days of Venmo and digital payments, it's not always easy to call in a debt from a friend. If you're going to loan a loved one money, big or small, it's important for your own sanity to mentally earmark it as a gift.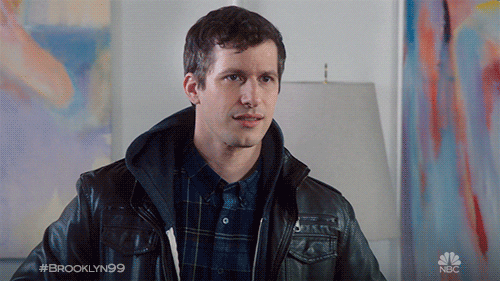 Serving Up the Truth in Hotlanta

Kandi Burruss: "I didn't feel like we were going to break up, but we weren't going to get married that day if we didn't have a prenup." 
Kandi Burruss is one of the most accomplished women to ever be part of the Real Housewives franchise and she knows how to build a business, grow a brand and diversify her wealth. In season 6, season 7 and the spin-off show Kandi's Wedding, viewers watched as Kandi got engaged and married to Todd Tucker. While the fairy tale wasn't without its trials and tribulations that made for excellent reality TV fodder (like a meddling mother), Kandi did one thing we so rarely see play out publicly. She required her betrothed to sign a prenup and the two let some of the ensuing drama play out on national television. I also loved that it was the successful, wealthy woman asking for the prenup.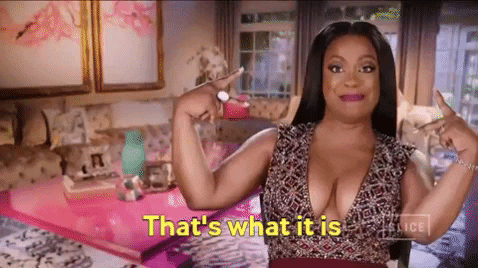 As a lover and defender of prenups myself (yes, I do have one), it was refreshing to see frank discussions around the fact that marriage has legal implications that impact your wallet long-term. Kandi was coming into this marriage with a multi-million dollar net worth and wanted to protect what she'd built in the case that the marriage ended in divorce instead of death.
It's fair for both parties to want to protect assets they acquired prior to getting married. Sure, were some of the arguments unnecessarily dramatic and a byproduct of reality TV producing? Yes. But going through the prenup process is emotional, no matter how pragmatic you generally are. It touches nerves and triggers you may not have even known existed for you in your relationship. Ultimately, if you're able to navigate those intense conversations in a healthy productive way, you're starting off your marriage with a rock-solid foundation. Want more Kandi? Stream The Real Housewives of Atlanta on Hulu!)
There are many more money lessons we can learn from our favorite TV shows, movies, and reality TV stars – what are some of the money lessons you've learned? Let us know in the comments.
Erin
The post 5 of the best money lessons from TV appeared first on The Official Roku Blog.
Source: Official Roku Website