Ahora podrás encontrar en Roku noticias nacionales e internacionales, finanzas, salud, tendencias y más en el canal de adn40.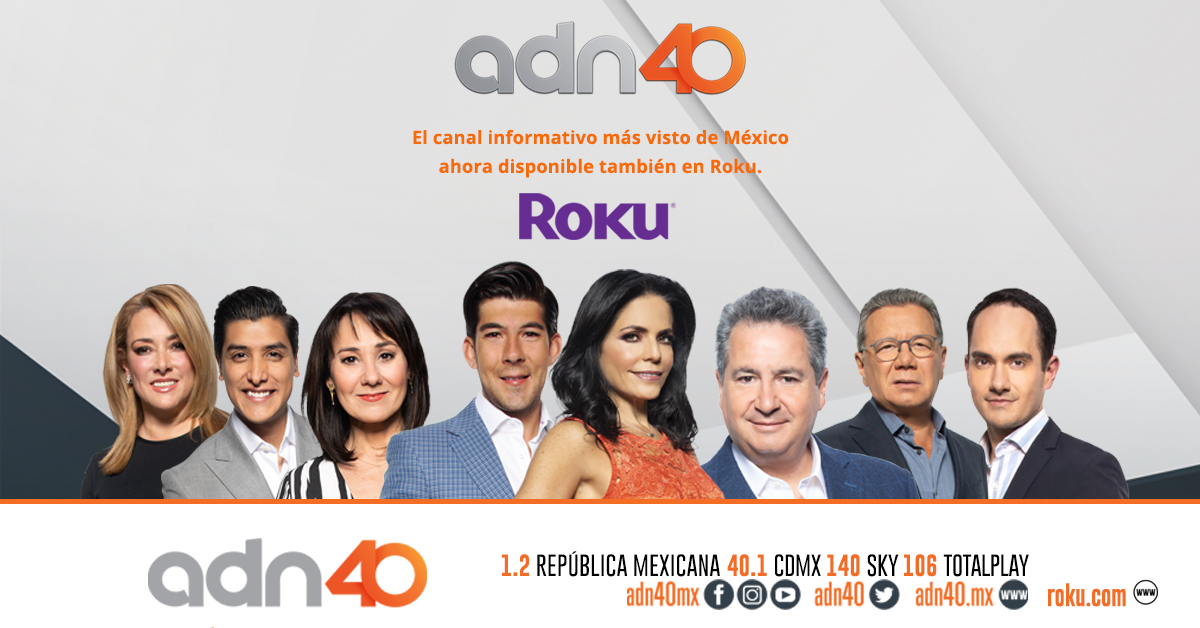 En estos momentos de incertidumbre, mantenernos informados es de vital importancia. Lo que queremos son noticias en vivo de los acontecimientos más importantes del mercado, saber las novedades de la pandemia global, el regreso a la normalidad y estar enterado de las tendencias globales.
Es por eso que nos emociona anunciar que adn40, el canal informativo más visto de México, estará disponible también en Roku a partir del 18 de junio. Con noticias de México y el mundo, además de temas de finanzas, salud, tendencias, ciudad, deportes, seguridad, opinión y mucho más, los usuarios de Roku ahora podrán disfrutar de las noticias en vivo, todo el día, todos los días, a través de la programación de adn40 de manera gratuita.
Desde 2017, adn40 ha ofrecido cobertura noticiosa de vanguardia, especiales y contenidos de la mano de su equipo de profesionales del periodismo que incluyen a Hannia Novell, Leonardo Curzio, Mónica Garza, Manuel López San Martín, Carlos Mota, Jorge Fernández Menéndez, Bibiana Belsasso y Max Espejel; además de un conjunto plural de líderes de opinión y expertos.
De esta manera, los noticieros como Así Amanece, Es de mañana, Es Noticia y Es Tendencia, Ida y Vuelta y los programas de debate, opinión y reportajes como República Mx y  Todo Personal podrán disfrutarse desde tu dispositivo Roku o tu Roku TV con el canal adn40, ya disponible para descargar a partir de este 18 de junio.
¡Bienvenido adn40 a Roku!
The post adn40 llega a Roku en México appeared first on The Official Roku Blog.
Source: Official Roku Website