A espera finalmente chegou ao fim!  O tão esperado Disney+,  serviço de streaming por assinatura da The Walt Disney Company, chegou ao Brasil e, a partir de hoje, os usuários poderão desfrutar da magia Disney em seus dispositivos Roku.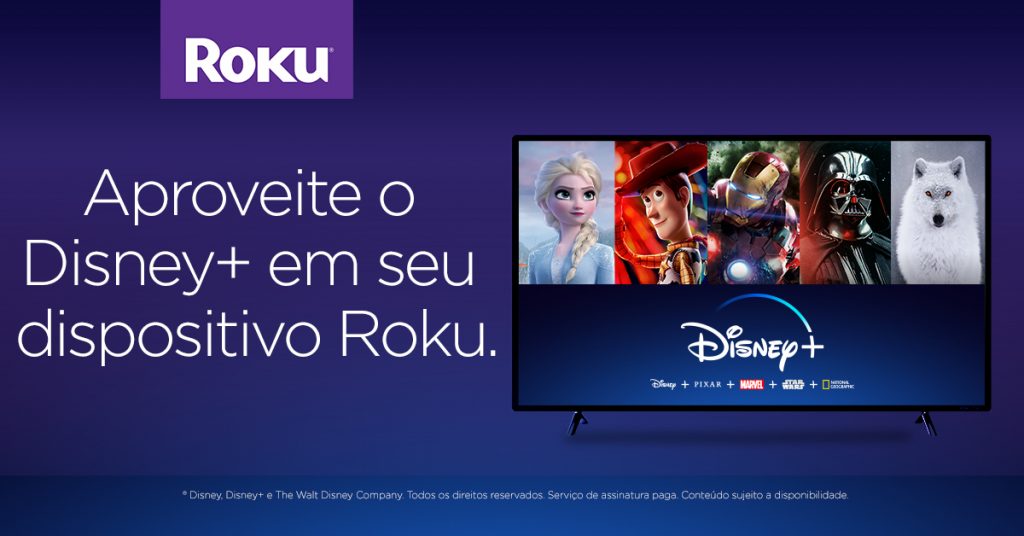 O Disney+ é destino exclusivo e permanente para a melhor e mais completa seleção de filmes e séries da Disney, Pixar, Marvel, Star Wars e National Geographic, além de produções originais. O Disney+ é o único serviço de streaming que disponibiliza os incríveis filmes da Disney, Pixar, Marvel e Star Wars.
Da magia e mistério de Malévola às aventuras de Star Wars, a biblioteca Disney+ oferece opções para todos os gostos. Os mais esperados títulos Disney+ Originals incluem The Mandalorian, O Mundo de Acordo com Jeff Goldblum, A Dama e O Vagabundo e muito mais. E não para por aí! Os usuários Roku também já podem assistir a muitos clássicos da Disney.
Os assinantes do Disney+ poderão assistir conteúdos sem anúncios e sob demanda em até quatro dispositivos simultaneamente, também é permitido adicionar até sete perfis individuais. Os assinantes podem desfrutar ainda da possibilidade de definir perfis personalizados para crianças, criando uma interface fácil de navegar e com conteúdo infantil adequado para cada idade.
Os usuários Roku agora podem baixar o Disney+ na Loja de Canais Roku ou encontrá-lo na categoria "Filmes e TV" da seção "Canais de Streaming" na tela inicial da Roku.
O Disney+ está disponível nos dispositivos Roku e Roku TVs na Argentina, Brasil, Chile, Colômbia, Costa Rica, El Salvador, Guatemala, Honduras, México, Nicarágua, Panamá e Peru.
Esperamos que goste da novidade e aproveite toda a magia do Disney+ nos seus dispositivo Roku!
The post DISNEY+ chega à plataforma Roku no Brasil appeared first on The Official Roku Blog.
Source: Official Roku Website