Exciting new updates aimed at giving you the best possible streaming experience are on the way with Roku OS 9.2. The software update includes features that make it easier for you to discover entertainment including Roku Zones, an update to the 4K Spotlight channel, a new Roku Tips & Tricks channel and more. Roku OS 9.2 is available on select Roku players starting today and is expected to roll out to all supported streaming players in the coming weeks. Roku TV models are expected to receive the update in phases over the coming months.
Roku Zones
In the mood to watch an action movie or a comedy? Roku Zones make it easy to discover entertainment across a selection of top genres, as well as a variety of topical subjects, like award winners.
Just use Roku Search to enter any of the dozens of supported genres or topical subjects and receive a Roku Zone within your search results. When selected, a Zone provides you with a curated selection of relevant entertainment from channels across the Roku platform organized in browsable rows such as new releases, free titles, rentals and more. Roku Zones like the Drama Movies & TV Zone or the Superhero Movies Zone are updated frequently, so make sure to come back on a regular basis when you're looking for something new to watch.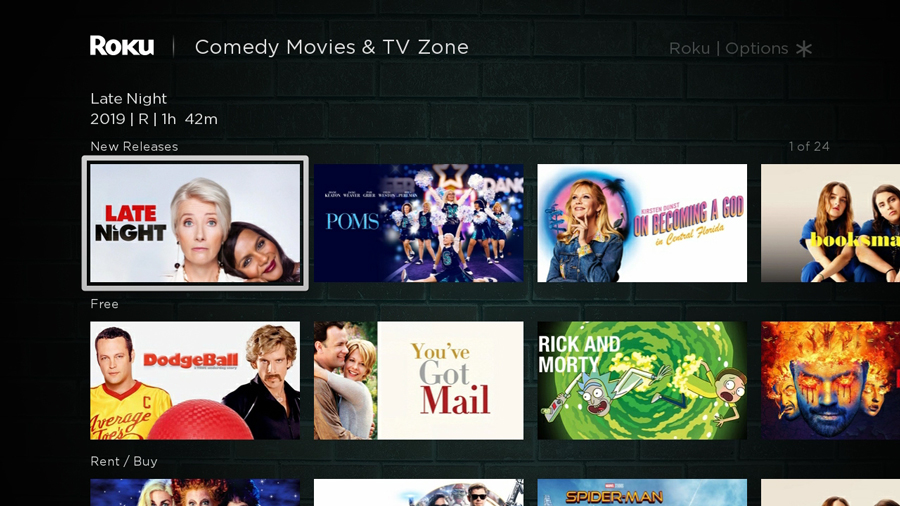 Easy discovery of 4K entertainment
The 4K Spotlight channel has been updated with a new look and simpler navigation to help you find 4K entertainment quickly. Launching the channel will now bring you to the 4K Movies & TV Zone, a regularly updated, hand-curated selection of 4K titles from channels across the Roku platform. Browse from categories such as Most Popular, Action, and more.
Roku OS 9.2 also makes it easier to find 4K entertainment when using Roku Search. Now, you can enter "4K" as a text search term and see a result for the 4K Movies & TV Zone. Additionally, if you have a voice remote and say "Show me 4K movies," you'll see results for a variety of 4K movies.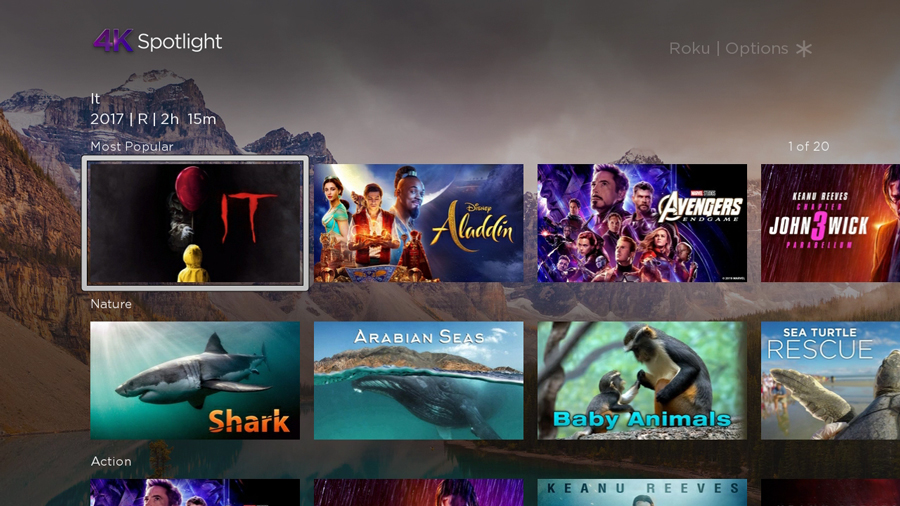 Shortcut section on the Roku Home Screen
A new shortcut section has been added to your Home Screen to help reduce the number of steps you need to take to perform popular actions. Roku players will have a shortcut tile to add channels, and Roku TVs will have shortcut tiles to add channels and set a sleep timer. More shortcuts are expected to be added over time. To find the shortcut section, simply press up on your Roku remote when you're at the top of your Home Screen.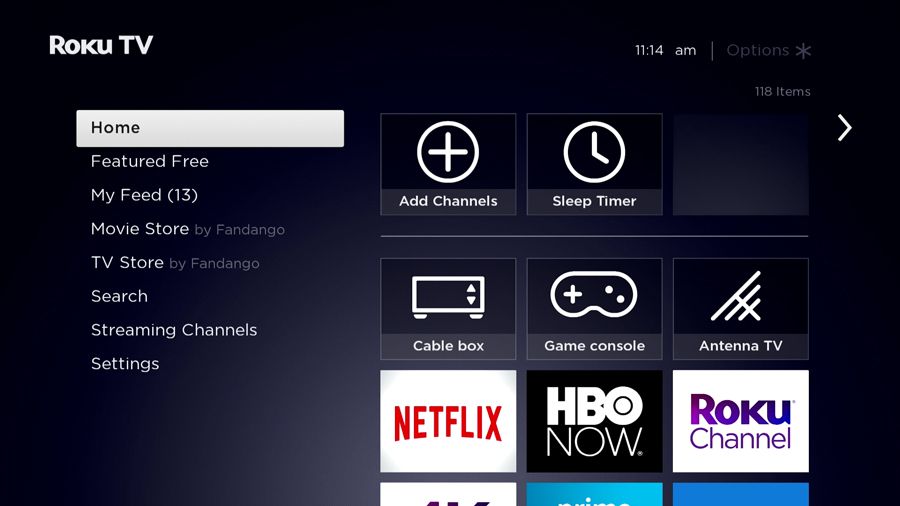 Roku Tips & Tricks channel
The new Roku Tips & Tricks channel is packed with videos created by Roku to help you learn more about features, new products and popular support topics to help ensure the best possible streaming experience. The channel will automatically appear on your Home Screen when your device updates to Roku OS 9.2. You can move or remove the channel by pressing the * button on the Roku remote.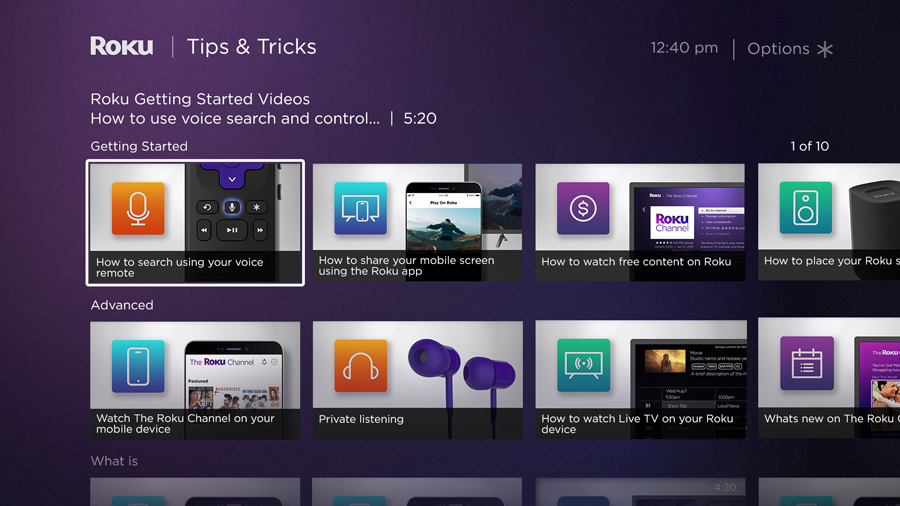 Control multiple Roku devices with Amazon Alexa and Google Assistant
An update has been made to Roku's Amazon Alexa skill, as well as Roku's Google Assistant action, allowing you to choose to control some or all of the Roku devices in your home. After linking your preferred devices, you can simply say which device you want to control with voice commands like, "Alexa, pause living room Roku" or "Hey Google, turn off bedroom Roku."
New Roku Voice features
If you own a Roku TV, you can now set a sleep timer using Roku Voice. Simply press and hold the Roku Voice button your Roku TV remote* or in the free Roku mobile app, and say "Turn off the TV in 20 minutes" or "Go to sleep at 11 pm."
Ever known a movie quote, but couldn't remember what movie it came from? Now you can use Roku Voice to find a movie by searching for the top quotes from thousands of popular titles across the Roku platform. Just use Roku Voice and say a command like, "What movie is this from – 'Here's looking at you kid'" and quickly see results for the movie(s) related to the quote.
If you use Roku Media Player to stream your personal music, movies, or photos, you can now use Roku Voice to find and play files using voice commands like "Play classic rock on Roku Media Player." Additionally, you can control playback of entertainment within the channel by saying things such as "Skip ahead 20 seconds" or "Play the next song."
Happy Streaming!
*Note: Not all Roku devices come with remotes featuring a Roku Voice button. Customers who do not have a voice remote can use the Roku mobile app to enjoy Roku Voice features.
Supported Roku devices receiving Roku OS 9.2:
Roku Streaming Players – 4670X, 4662X, 4661X, 4660X, 4640X, 4630X, 4620X, 4400X, 4230X, 4210X, 4200X, 3931X, 3930X, 3921X, 3920X, 3910X, 3900X, 3811X, 3810X, 3800X, 3710X, 3700X, 3600X, 3500X, 2720X, 2710X, 2700X
Roku TV – All Roku TV models are expected to receive Roku OS 9.2.
The post New features arriving with Roku OS 9.2 appeared first on The Official Roku Blog.
Source: Official Roku Website