Eddie Gonzalez and Jeremy Haft are co-creators and executive producers of Netflix's On My Block, the hit series that returns for its second season (available to stream now exclusively on Netflix). The pair, who are longtime writing-producing partners, also wrote for All Eyez On Me (the Tupac Shakur biopic), and such television series as Empire and Gang Related. We had a chance to ask them the questions on everyone's mind about the series.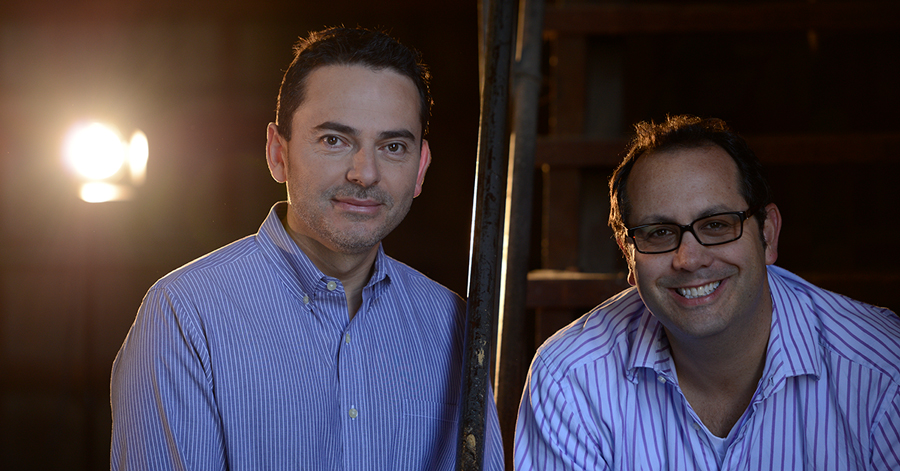 1. Let's hear your elevator pitch for streamers who haven't yet seen On My Block.
JH: In a world of stereotypes, On My Block offers a rare multi-faceted and authentic glimpse into the lives of a group of teenagers of color living in the dangerous (but vibrant) inner-city neighborhood of Freeridge, California.
EG: It's a universal coming of age story — except the heroes in our stories are kids of color set in a world rarely seen on TV.
2. What do fans have to look forward to in season 2?
JH: An amazing Ruby-Jasmine dance. Cesar takes his shirt off. Many, many times. Jamal's go-bags go next level! Think shark repellent!
Monse moves on from hoodies to some high-end clothes! And wait for a new 'do! Ruby and Abuelita explore the meaning of life. And who will need floaties in the pool?
EG: The Roller-Coaster ride that is Monse and Cesar's relationship. Ruby and Jamal speaking in vocal fry. Seeing the other side of Jasmine. And, Chivo…need I say more?
3. Describe season 2 of On My Block in 3 words.
JH: Why three words? Or Money. Gangs. Love.
EG: How about five words — You. Won't. Believe. This. Ending.
4. Which character do you relate to the most and why?
JH: I definitely relate to Jamal the most. I love weird, crazy things just like Jamal — coincidence or not? I'm pretty sure the Loch Ness monster and the Yeti are cohabitating somewhere in New Jersey, and I will find them! And I will have a go-bag with me!
EG: Ruby. He's never at a loss for words and can talk his way out of — or into — any situation. He's also an eternal optimist who refuses to ever play a victim, no matter his circumstances.  Oh, and he's short like me — only with much better hair.
5. What's the process of creating a TV show look like, and what was your reaction when the show got picked up by Netflix?
JH: Creating a show is equal parts creativity, and hard-work. While many stories can be interesting, the big questions is: does the story have legs to turn into a series? I remember Eddie and I being in the car together after our pitch meeting with Netflix talking about how fun it was to develop this show. And especially how much we loved exploring these characters and this neighborhood in a way that is rarely seen on TV or in films. It was great to create a show that accurately depicted Eddie's childhood both in it's specificity and the teen world's universality. And minutes later we got the call and were so excited! 3 years and 2 seasons later, here we are – still excited to be telling this story and equally interested in telling more stories that allow people to see themselves reflected on screen for the first time.
EG: Lauren, Jeremy and I spent six weeks eating Greek Quinoa salads at Panera, laughing a helluva lot and coming up with the bones of the show. I will always have the greatest memories of Ventura Boulevard and Coldwater Canyon as that is where we found out that Netflix had made an offer. We were beyond ecstatic!
6. What Roku device do you have, and what do you love about it?
JH: Roku Streaming Stick — It's an amazing piece of technology, not only does Roku easily let me maneuver around everywhere, but it's also compatible and easy to use the mobile app on my phone. I love it!
EG: Roku Premiere. I love its simple interface.
7. What are you currently streaming?
JH: Black Mirror, Fauda, Narcos and Ozark
EG: Ozark and the Ted Bundy Tapes
After you're done streaming On My Block, see what else is New on Netflix this month.
Happy Streaming!
The post Q&A with On My Block co-creators Eddie Gonzalez and Jeremy Haft appeared first on The Official Roku Blog.
Source: Official Roku Website