A Roku e o Globoplay se uniram mais uma vez para criar uma promoção incrível para este final de ano. De hoje até 20 de janeiro de 2021, quem comprar um dispositivo Roku (AOC Roku TV ou Roku Express) vai receber acesso grátis, durante três meses, ao conteúdo disponível no Globoplay.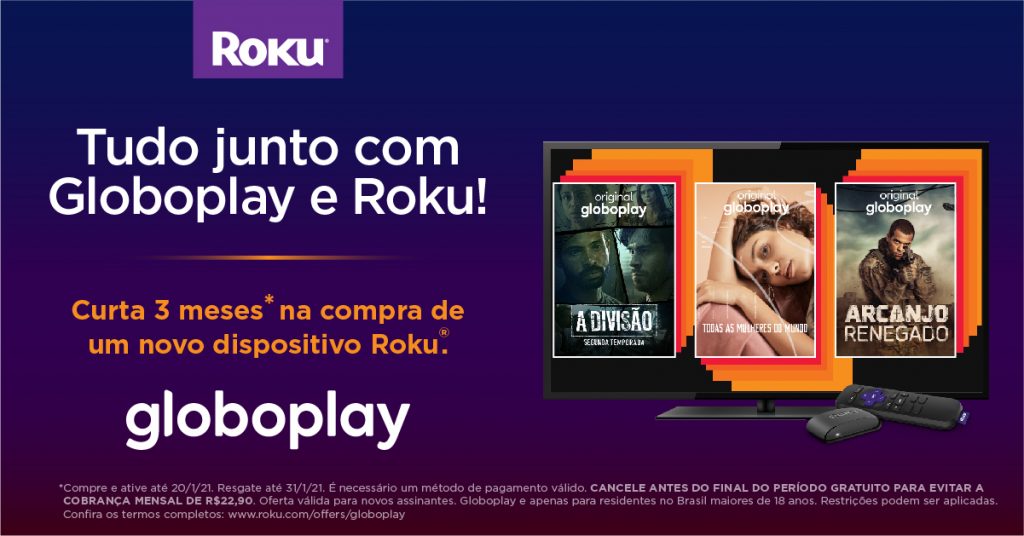 O Globoplay é a maior plataforma de streaming brasileira e um dos principais parceiros da Roku no país. O canal reúne os melhores filmes e séries internacionais, além de conteúdos originais e exclusivos Globo.
Alguns dos títulos de sucesso disponíveis no Globoplay:
A novela "O Clone", sucesso da TV Globo de 2001;
"Laços de Família", título que está no ar agora no "Vale a Pena Ver de Novo";
O filme "Minha Vida em Marte" com Paulo Gustavo e Monica Martelli;
"Minha Mãe é Uma Peça 2", segundo filme da comédia estrelada por Paulo Gustavo;
A série original Globoplay "Desalma", que acaba de estrear sua primeira temporada;
16ª temporada de Grey´s Anatomy, uma das séries de maior sucesso dos últimos tempos
Não perca tempo e aproveite esta super oferta!
The post Roku e Globoplay lançam promoção imperdível! appeared first on The Official Roku Blog.
Source: Official Roku Website